Louis-Philippe Jean Survives Training, Gets Married
Louis-Philippe Jean got married on Sunday, but leading up to his wedding, he was training so hard with groomsman Derek Poundstone, that LP said he could barely walk down the aisle.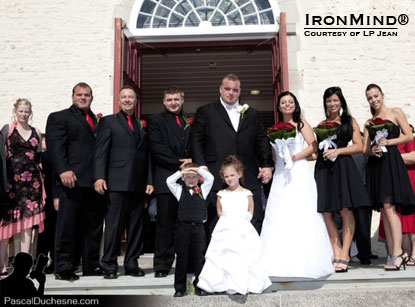 Canadian strongman Louis-Philippe Jean got married on Sunday–the big man is headed to the World's Strongest Man contest in a few weeks. IronMind® | Courtesy of Louis-Phiippe Jean.


"Derek [Poundstone] was a groomsmen and Kristin [Poundstone] was there too . . . you probably know my best man, Michel Chartier, the doctor who follows me on each international contest. We married at the church Saint Charles Borome, one of the oldest churches in the city of Quebec. Built in 1880. Kim Des Besquet , and I are now married!! Garrick Daft also came down from Columbus, Ohio, which was the farthest of my guests!"

And just because LP sat out the Canada's Strongest Man contest (he had already qualified for this year's MET-Rx World's Strongest Man contest), don't think he was resting on his laurels.

"I was with Derek and at the end we decided to train really hard at the gym. We did a 340 log 4 sets of 3 - 90 sec rest, strict press and clean," said LP, explaining that this was part of a three-day grind.

On Friday, LP said they did "deadlift and legs . . . Saturday, axle for reps 300x12 reps 330x6 360x5, 375x3 . . . All cleaned and pressed. That was so hard that I couldn't even walk down the aisle of my wedding!!!!"

Congratulations!

###

The IronMind Forum: discuss this article, talk strength, get help with your training.

You can also follow IronMind on Twitter.