Loon Mountain Welcomes the IHGF Highland Games World Championships
Come watch the best in the world play with sticks and stones when the IHGF Highland Games World Championships comes to Loon Mountain, New Hampshire starting tomorrow.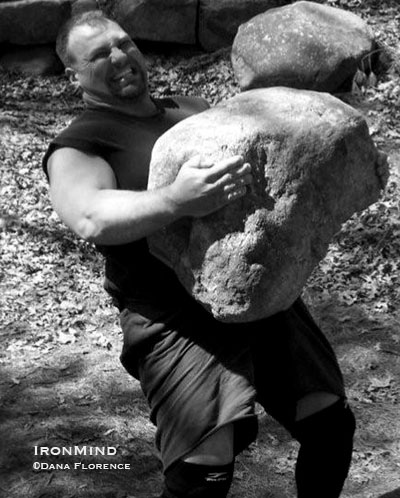 Wonder why they call Bill Crawford, M.D. Doc Rock? IronMind® | Dana Florence photo.


Chairman of Athletics for the Board of Directors of the New Hampshire Gathering of Scottish Clans, Bill Crawford ran through the basics for IronMind:

"The New Hampshire Highland Games is proud to host the 2011 IHGF World Heavy Events Championships September 16 -18.

"The competition starts on Friday the 16th with the IHGF World Hammer Championships, with last year's winner Mike Pockoski coming to defend his title. Competition continues on Saturday and Sunday with the NHHG Invitational Masters Competition on Saturday and World Championships on Saturday and Sunday. The overall IHGF Super Series Champion will also be announced on Sunday as well.

"So, in conclusion we have 3 IHGF Championship titles on the line here at the NHHG at Loon Mountain," Dr. Crawford said.

Here is the official start list:

• Sebastian Wenta - Poland
• Hans Lolkema - Holland
• Craig Sinclair - Scotland
• Scott Rider - England
• Greg Hadley - Canada
• Jason Johnston - Canada
• Rusty Price - USA
• Harrison Bailey, III - USA
• Mike Pockoski - USA
• Daniel McKim - USA
• Matt Vincent - USA
• Sean Betz - USA

For details, please check the official NHHG website.

###

Visit the IronMind Forum: talk strength, discuss this story. Strongman, grip, Highland Games, Olympic lifting, stones and more.

You can also follow IronMind on Twitter.