Long Range Hammers Set for Pleasanton
Whether you're a Highland Games veteran or just want to see your first Games, Pleasanton, California is where you'll want to be this weekend.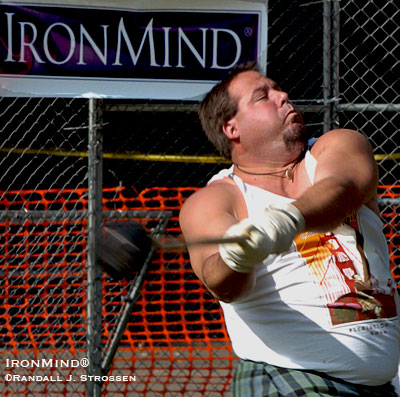 Field judges, move back! Photographers, grab longer lenses! Word has it that Ryan Vierra is bring some "real flyers" to Pleasanton, California this weekend for the 143rd Annual Scottish Highland Games, presented by the Caledonian Club of San Francisco. IronMind® | Randall J. Strossen, Ph.D. photo.

On the pro front, head judge Steve Conway told IronMind®, "Scott Rider is out with appendicitis and he was replaced by Dave Brown. Ryan Vierra is bringing in the hammers that were used in the 2008 World Championships." These hammers are "real flyers," Conway said, explaining that "the handles have been shaved for maximum flexibility, so I'm hoping for big throws."

There will be "plenty of competition in the men's amateur class: Greg Bell is making his first appearance in Pleasanton after winning at Enumclaw." Also featured will be: "Chad Gustin (second at the amateur Worlds last weekend), John Collins (2007 Pleasanton Champion), Sam Grammer (Connecticut), Rusty Price (2008 World Stone Champion), Mike Dickens (Virginia), Mike Susmark (Arizona), elite powerlifter Chad Aichs, and Drew Kirchen (from Virginia, Drew is a recently returned Iraq vet and he is a big threat to win it all at Pleasanton)," said Conway. "The women's class will be a battle between reigning World and U.S. champion Summer Pierson, Kate Mason, Mindy Pockoski, who is a threat to break most of the current records, and newcomer Kristina Price, Rusty's sister and also trained by Ryan Vierra."

For details, please visit the official Caledonian Club of San Francisco website.