London's Strongest Man: A Giants Live Pre-Qualifer
"Genesis Gym in West London hosted Giant's Live's London's Strongest Man at the weekend," Colin Bryce reported to IronMind.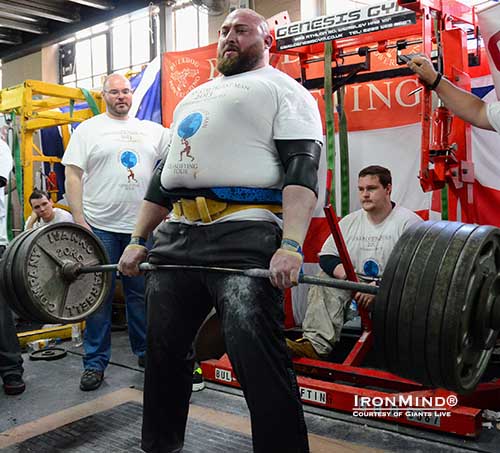 Lloyd Renals does an easy 10 reps with 270 kg on his way to winning the Giants Live Strongest Man in London contest. Giants Live organizes the official qualifying tour for the World's Strongest Man contest. IronMind® | Courtesy of Giants Live.


"The event was in aid of the charity Help For Heroes. Three weight categories involved - Open, U105kg and U90kg. Up for grabs in the Open's was a place at a Giants Live. In the lighter bodyweight classes the winners go to Europe's Strongest Man 2013 in their respective categories. The contest was an open event and athletes from a number of countries made the journey.

"The strongest Londoner of all time, Terry Hollands, came along and refereed the Open category. Lloyd Renals repped out an easy 10 reps at 275kg in the deadlift to take the victory on the final event over the former discus thrower Ben Kelsey. Renals, who cuts a striking figure at 170kg and 6 foot 5inches, will be making his international Giants Live debut at one of the grand prix later in the year. Kelsey, in second, weighs in less than 115kg yet did 12 reps at 250kg in the 'raw' squat event.


Open Results:

1st Lloyd Renals - ENG
2nd Ben Kelsey - ENG
3rd Luke Fullbrook - ENG
4th Lance Lavelle - CAN


In the 105's the class act was Rob McGee who styled out the win on the final event, deadlift, when he refused to wear straps. Ten reps at 235kg at high speed sealed the victory.

U105 Results:

1st Rob McGee - ENG
2nd Shane Burns - ENG
3rd Lee Johnson - ENG
4th Chris Astle - ENG

In the 90s the outstanding performer was Germany's Markus Krümmer who belted out 8 reps in the 200kg 'raw' squat and 13 reps at 220kg in the deadlift.

U90 Results:

1st Markus Krümmer - GER
2nd Tom Hibbert - ENG
3rd Tosin Mobee - ENG
4th Dave Baxter - ENG



Left to right: Colin Bryce, Lloyd Renals, Rob Mcgee,Markus Krummer, Terry Hollands, and Dave Beatty. IronMind® | Courtesy of Giants Live.


### 



The IronMind Forum: discuss this article, talk strength, get help with your training.

You can also follow IronMind on Twitter.