London Prepares: Olympic Test Event for Weightlifting
This coming weekend, London's ExCel Center will welcome some of the world's top weightlifters in an international invitational meet that serves as a dry run for the sport's competition at the 2012 Olympics.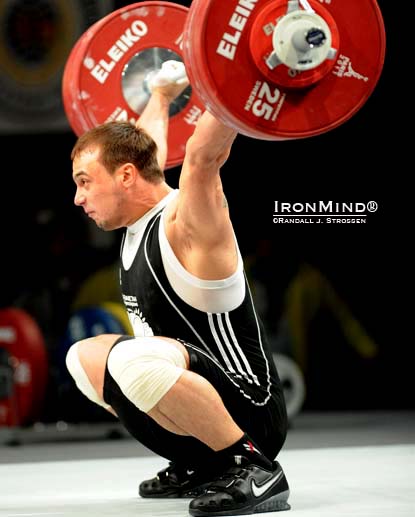 Ilya Ilin (Kazakhstan), shown snatching 181 kg at the World Weightlifting Championships last month, is one of the marquee names in the sport who will be in London competing at the Olympic Test Event December 10–11. IronMind® | Randall J. Strossen photo.


As a test event, an official document describes the primary focus as being on "Field of Play operations, Technology delivery and Workforce functions," but if that sounds rather abstract, consider that such stars as Ilya Ilin and Zhou Lulu are among the entries, which include two body weight categories for the men (94 kg and +105 kg) and two for the women (69 kg and +75 kg).

Myriad functions and tasks are required to support an Olympic event and no effort is spared in preparing the way for what is the highest-order presentation in the world of sports—hence the test events.

On the performance side, Ilya Ilin, the defending Olympic champion, is coming off a stirring performance at the recent World Weightlifting Championships, where he won the 94-kg class with a total just ahead of his gold medal performance at the Beijing Olympics.

Also on the card this weekend is the latest star unveiled by the mighty Chinese Weightlifting Association: Zhou Lulu, who made a smashing international debut last month at the world championships, where she out-totaled Russia's vaunted Tatiana Kashirina in what appeared to be a changing of the guard as the London Olympics draw near.

Matthew Curtain, LOCOG Weightlifting Manager, has been burning the midnight oil in preparation for this weekend's competition, with all attention "focussed on providing a seamless pathway for performance."

###

The IronMind Forum: discuss this article, talk strength, get help with your training.

You can also follow IronMind on Twitter.