Log Lift World Championships, SCL-Lithuania
"This weekend we are in Big Z's home town, Vilnius, where 12 top athletes will compete on Saturday starting at 2 p.m. local time in the Log Lift World Championships, with a live broadcast on Eurosport 2, and on Sunday, at noon, we will have the MHP Strongman Champions League–Lithuania, all held at the Siemens Arena" Ilkka Kinnunen told IronMind today.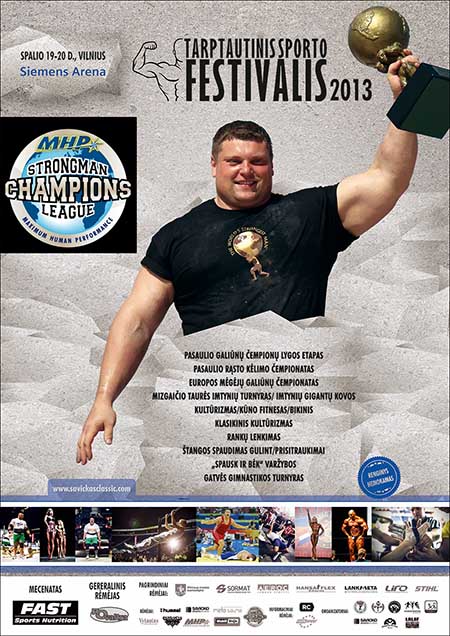 Zydrunas Savickas, the king of the hill in strongman, will be center stage in his hometown this weekend as Strongman Champions League brings the Log Lift World Championships and MHP SCL–Lithuania to the Siemens Arena in Vilnus. IronMind® | Image courtesy of SCL.




"The world record in the log lift is 221 kg, done by Savickas, but there is at least one man who can challenge him: Krystof Radzikowski, the Polish pressing machine, who is also now the leader of the 2013 SCL series.

"This same weekend, we will have much more events like the European Amateur Strongman Championships, Fitness, Bodybuilding, Powerlifting, etc.., so if you are close by, come to check some real power action in Vilnius.

Here's the start list of this weekend:

1. Zydrunas Savickas
2. Vidas Blekaitis
3. Saulius Brusokas
4. Rob Frampton
5. Krzysztof Radzikowski
6. Hafhor Bjornsson
7. Matt Wanat
8. Dainis Zageris
9. Lauri Nami
10. Juha Matti Jarvi
11. Alex Moonen
12. Bjorn Solvang
Also for strongman fans, Kinnuen said, "Tomorrow, Thursday evening, SCL–Hungary will be broadcast on on Eurosport 1 at 22.00 Hours CET."


#

Want to talk strength? Join the IronMind Forum.

You can also follow IronMind on Twitter and on Facebook.