Jim Schmitz, who's seen a top weightlifting contest or two, was just telling me how great his local meet was this past weekend.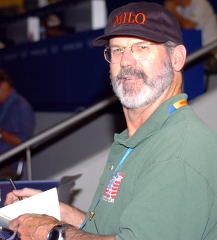 Jim Schmitz in his position as the MILO reporter covering weightlifting at the 2004 Olympics (Athens, Greece). IronMind® | Randall J. Strossen, Ph.D. photo.
It wasn't just that Bruce Wilhelm's son lifted, in his first meet no less, and that he hit a 107.5-kg snatch and 145-kg clean and jerk - both being weights he had never even touched before - or that Shannon Hartnett came in and power snatched 60 kg and cleaned and jerked 82.5 kg; it was also a great gathering of longtime friends and big names from the past. "You never know when a local meet is going to be like this, but this one was really special," Jim said.

Local meets are where it all starts, so if you can, put one on, lift in one, or just go to one and have a great time supporting the folks who make it happen.