Lin Qingfeng Wins the 69s in London
London—China has not dominated the early days of weightlifting competition as it's wont to do, but Lin Qingfeng set things on a familiar course as he blasted through the men's 60-kg class tonight—showing some big stuff along the way.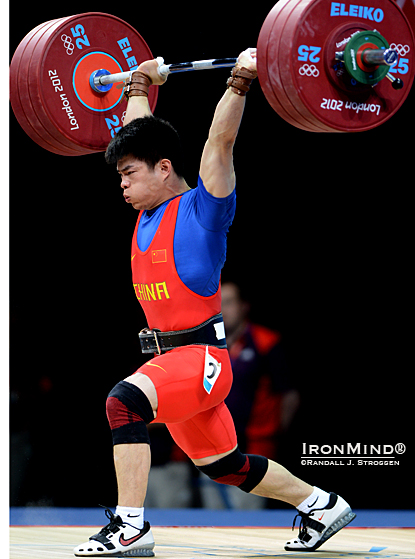 Olympic weightlifter Lin Qingfeng won the gold medal in the men's 69-kg category with this opening clean and jerk of 182 kg. If it looked easy, maybe that's why he went on to take 198 kg on his third attempt. IronMind® | Randall J. Strossen photo.


Consistency can be good or bad and with the 14 starters in the A-session, most were in the latter camp on the snatch: four lifters bombed, only one made two attempts and only one—Lin Qingfeng—made all three. The scoreboard had so much red on it you'd have thought the sharks had just had lunch.

Where the others stumbled, Lin Qingfeng shined as he ripped through good snatches with 152, 155 and 157 kg, before going on to move into gold medal position—never to be threatened—with his opening clean and jerk (182 kg). Not content to have won the class by 11 kg, Lin Qingfeng called for 198 kg on his third attempt, in an effort to break both the world and the Olympic record in the clean and jerk. He cleaned the weight solidly, drove it overhead, but could not fix it, and so he missed the jerk.


Earlier today, Maiya Maneza (Kazahkstan) had things her way in the women's 63-kg class—also winning the gold medal with her first clean and jerk (135 kg), before attacking 144 kg twice in a bid to break the world record (her own) in the clean and jerk, along with the Olympic rccord in the total as well as in the clean and jerk—she cleaned the weight, but missed the jerk on her second attempt and then missed the clean on her third attempt.


 ###



Visit the IronMind Forum: talk strength, discuss this story. Strongman, grip, Highland Games, Olympic lifting, stones and more.

You can also follow IronMind on Twitter.