Lift and Learn: Lindenwood University Offers Program for Weightlifters
Saying he "set this program up to be able to give Olympic weightlifters an option to lift while earning a degree in college," Derrick Johnson is inviting lifters worldwide to explore the possibility of going to college at Lindenwood University while pursuing their weightlifting careers at the same time.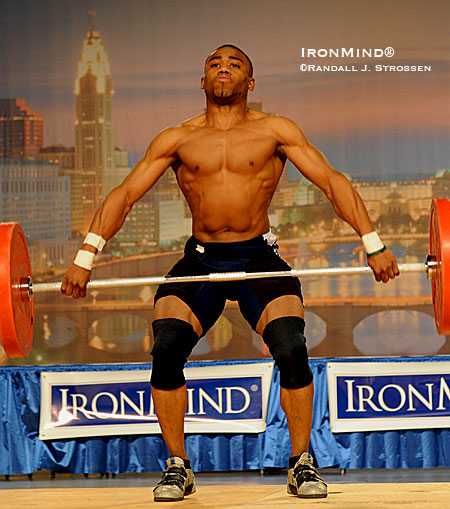 A lean, mean weightlifting machine: The IronMind® Invitational at the 2008 Arnold Sports Festival featured top Chinese weightlifters Zhang Jie and Lu Changliang along with four top American lifters, including Derrick Johnson - and it was Derrick Johnson who first lit up the crowd when he came out to lift with the top of his singlet pulled down. IronMind® | Randall J. Strossen photo.


"I made sure to include international weightlifters in the process to give them the opportunity to 'get an American' education," Johnson said. "Being a part of this program would give an athlete a great training environment, we offer competitive grants to attend Lindenwood University, and the athlete would be coming to a school that has the biggest athletics program in the United States with a heavy international influence."

Saying more, Johnson explained, "A new program has been created in the United States for international weightlifters of all levels. The university has a high level of international students and can accommodate all of their needs including green cards, visas, and current level of English speaking and writing skills. Athletes interested in applying to the weightlifting program at Lindenwood University will be fully outfitted and their expenses to competitions will be paid for including meals, hotels, and travel costs. The athletes accepted into the Lindenwood University weightlifting program will have the option of staying in dorms or on-campus housing, and will receive three meals a day. Lindenwood University will be accepting undergraduates, graduates, transfer students, and international students. Lindenwood is located in St. Charles, MO, USA, which is 25 minutes from downtown St. Louis.

For more information on Lindenwood University, please visit the Lindenwood University website, and for additional information on this program, please contact DJohnson2@Lindenwood.edu or Weightlifting@lindenwood.edu.