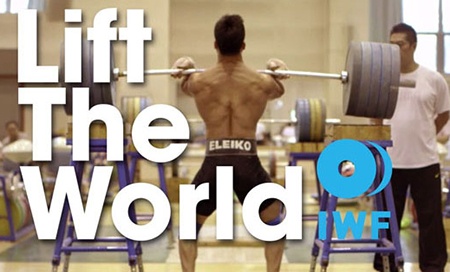 The International Weightlifting Federation (IWF) has released its groundbreaking documentary Lift The World.

Lift The World: A documentary by the International Weightlifting Federation (IWF) presents a fresh view of the sport. IronMind® | Image courtesy of IWF

"The uplifting 50-minute film documents the hopes, aspirations and achievements of weightlifters of all ages across four continents. It features 10-year-olds in Mexico, teenagers from Cameroon and Tunisia, and revealing at-home interviews with World and Olympic champions Dmitry Klokov and Lu Xiaojun, in Russia and China," explained the IWF press release.

"It provides a chance to show weightlifting out of the context of major sporting events – show it as an interesting subculture – a way of life that includes many interesting people and their amazing stories.

"'We wanted to show the many different backgrounds of our heroes – the weightlifters of the world. Capturing their emotions and roar of exultation, LIFT THE WORLD presents weightlifting as a life path and gives an insight in how weightlifting can shape people's lives.'"
said Lilla Rozgonyi, Communication and Marketing Director Production Assistant from the IWF side.

"Our goal is that those who see LIFT THE WORLD will never look at weightlifting the same way again."

The International Weightlifting Federation presents LIFT THE WORLD. Also on Facebook and YouTube.


                                                       ###



Want to talk strength?  Join the IronMind Forum. 

You can also follow IronMind on Twitter and on Facebook.