You don't have to be a Harvard Ph.D. to figure out that lifting big weights involves pain, but Jim Schmitz takes things a little further this month in his column, Schmitz on the Lifts.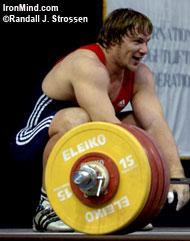 He's all smiles now, but this gold medal 211-kg snatch made by Evgeni Tchigishev (Russia) at the 2005 World Weightlifting Championships (Doha, Qatar) was described by Jim Schmitz as being one of the hardest snatches he's ever seen. That's only part of the pain associated with a lift like this, and pain - different kinds of pain - is what Jim Schmitz's latest column is about. IronMind® | Randall J. Strossen, Ph.D. photo.

Good, bad or someplace in between, lifting pains come in different forms and here's a guide to pain that will help you lift more. Follow this link to read the latest from Jim Schmitz, or from the IronMind home page go to Training Articles.