Latest John Brookfield Grip Tip: Swing to Success
One of the fringe benefits of the kettlebells going mainstream is that people have rediscovered the value of the swing, and John Brookfield, as you might guess, has a different take on how to put this terrific movement to productive use in your training.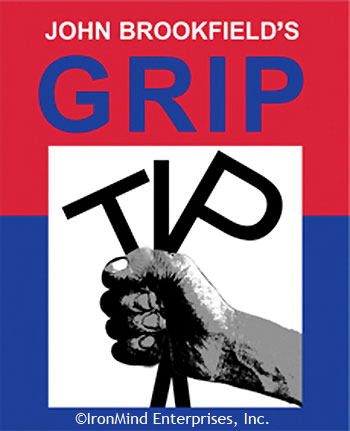 This month, John Brookfield's Grip Tip will give you overall fitness and conditioning, along with grip that won't quit in the blink of an eye. IronMind®


As you would also guess, if you are familiar with John Brookfield, this training program doesn't require a boatload of equipment, and if you're short of cash, you can do the movement with a couple of things you might already have in your garage or basement. Whatever your final choice of training tool, though, follow John Brookfield's advice and you will see why he calls this "Swing to Success."

Follow this link to John Brookfield's Grip Tip or go to the Training Articles button at the top of the IronMind® homepage.