Las Vegas Highland Games: Andy Vincent Has the Winning Hand
Francis Brebner called the action at the Las Vegas Highland Games for IronMind and talking about action, there was plenty of it: Andy Vincent, Jake Sullivan and Jon O'Neil distinguished themselves in the pros and Robert "OB" Oberst made an impressive debut in the novice class.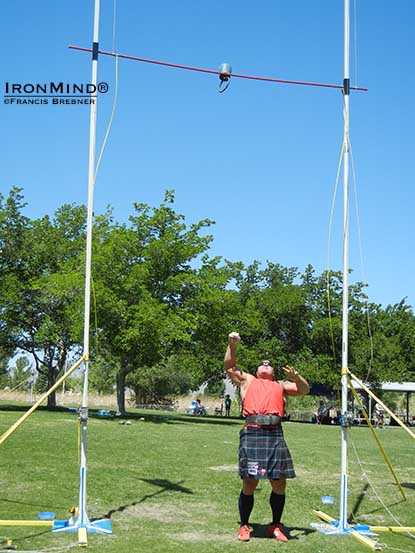 Andy Vincent won the 56-lb. weight for height with an 18-ft. throw and from there he took some shots at breaking the world record. Very impressive. IronMind® | Francis Brebner photo.



2013 Las Vegas Highland Games
by Francis Brebner



The Las Vegas Highland Games this past weekend had almost a hundred athletes battling it out over several athletic group categories. Three new additions to the pro class—Andy Vincent, Jon O'Neil and Jake Sullivan— along with Kearney Smith, Mike Dikens, Ryan Stewart, Doug Steiger and John Odden, made up the group which saw some very big numbers been thrown for the beginning of the season.

On Friday night, on the world-famous Fremont Street in Las Vegas, the SAAA organized a demonstration of sheaf pitching which fascinated the masses of spectators along with the splendid playing of the LA Scots pipe band which finished off the playing of Celtic rock band 1916, which created a great atmosphere.

On the first day of competition in the Pro ranks with the 22-lb. Braemar stone, Andy Vincent took the first win but had to pull out everything he had on his last putt to win over his closest rival, O'Neil, with a world class put of 45' 11"; in second place was O'Neil with 45'1" and in third place, Sullivan with 40' 9".

In the 16-lb. Open stone O'Neil pulled off the win with a impressive putt of 55' 5-½" with Vincent this time having to settle for second place with 54' and Sullivan in third with an 52' 10".

The 56-lb. weight-for-distance was a very close tussle between Vincent and Sullivan, with Vincent claiming his second win with a distance of 45' 1"; in second place was Sullivan with 44' 4-½" and in third place was Ryan Stewart with 40'.

Moving into the 28-lb weight for distance again it was head-to-head between Vincent and Sullivan with Andy Vincent notching up another win with a superb distance of 86 '8"; in second place was Sullivan with 85' 2" and in third Jon O'Neil with 78'1".



In the 16-lb hammer Jake Sullivan dominated with a excellent uphill throw of 133' 7", in second with place was Andy Vincent 121' 4", with Ryan Stewart in third place with 117'9" ½. 

The following event with the 22-lb hammer was Sullivan's second straight win, with a distance of 105' 9", followed by Andy Vincent at 103' 3-½" with Mike Dickens pulling out a throw of 91' 6" for third.



The seventh event of the competition, the 56-lb. weight-over-bar, this indeed was a real climax event for the vast crowd that was watching with Andy Vincent showing his overall strength and explosive power clearing the bar at 18' for the win and taking extra attempts which were so close to breaking the world record. Second place was Jon O'Neil with 17' and in third place Ryan Stewart with 16'.

The 20-lb. sheaf toss both Jake Sullivan and Mike Dickens cleared the height of 32' with Sullivan claiming the victory with fewer misses on count back, Mike Dickens in second place, and in third place Jon O'Neil clearing the height of 28'.



The caber toss was the final event, and the caber at 18' and a 130-lb. proved a very hard stick to maneuver, with only two athletes successfully getting a turn. Andy Vincent was on form nailing a perfect 12 o'clock toss for the win; in second place was Dickens with 11:00 and in third place was Stewart with a 80% attempt.


Overall scores
| | | |
| --- | --- | --- |
| 1. | Andy Vincent | 15.0 |
| 2. | Jake Sullivan | 25.5 |
| 3. | Jon O'Neil | 29.0 |
| 4. | Mike Dickens | 36.5 |
| 5. | Ryan Stewart | 41.0 |
| 6. | John Odden | 48.5 |
| 7. | Kearney Smith | 61.0 |
| 8. | Doug Steiger | 67.5 |

Asking Andy Vincent who was on fire throughout the whole competition about his performance overall and chiefly his record attempt on the weight over the bar, he said, "I am very pleased with everything at such an early stage in the season. I came very close to clearing 18' 11" and think if I work hard at it there could be a chance of clearing this height in the near future."

Special mention must also be given to Jake Sullivan who only in his second competition as a Pro pulled out a very impressive performance all round, and also to a few others such as John Waugh, who in the Masters 60-plus category set a new World Record in the 16-lb Sheaf with a height of 25'2", and also Fresno Strongman Robert "OB" Oberst, who only a day before won the Giants Live qualifier, so he will be invited to a Giants Live contest—giving him the opportunity to qualify for the 2013 World's Strongest Man contest.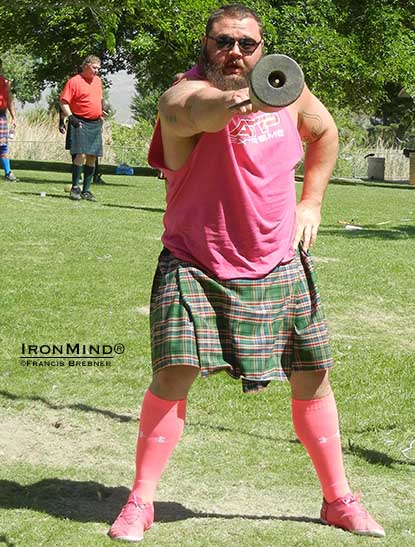 Robert "OB" Oberst is becoming something of a one-man wrecking crew in strength sports: he won the Giants Live qualifier the day before making a strong debut in the Highland Games. And anyone who saw OB's mas wrestling matches with James Rude at the LA FitExpo knows that OB has to be a favorite to take the national title at the NorCal FitExpo in June. How big a day did OB have in Vegas when he made his Highland Games debut? His performances included three (perfect) 12:00 caber tosses in a day that Francis Brebner summed up thusly: "Very impressive for a first timer that has never touched a implement before." IronMind® | Francis Brebner photo.


### 



The IronMind Forum: discuss this article, talk strength, get help with your training.

You can also follow IronMind on Twitter.