Larson Graff Certifies on the IronMInd Red Nail
Making his mark as a short steel bender, Larson Graff has just been certified on the benchmark IronMind Red Nail.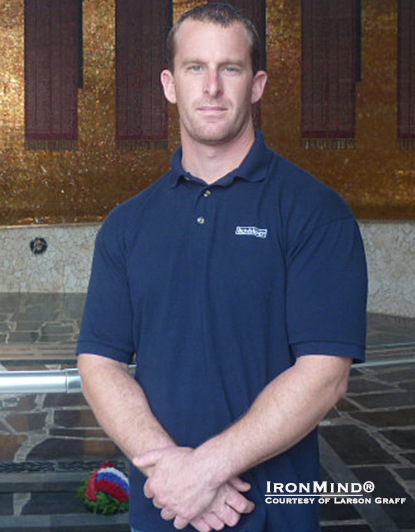 Larson Graff puts his hands to good use both on the job and off, and proving his prowess as as steel bender, he has officially bent the IronMind Red Nail. IronMind® | Photo courtesy of Larson Graff.


30-year old Larson Graff, who stands 5' 8" tall and weighs 190 lb., told IronMind, "I work for a local Water Municipality, as a foreman on a construction crew. I am often bending things and making connections in cramped spaces, where grip and wrist strength is very functional.

"I was also a competitive armwrestler for several years, and trained wrist strength exclusively in addition to giving my grip some attention as well. I just didn't know that I would ever take up short bending, and when I did, I made some quick progress.

"Outside gym training, I am interested in archery and bowhunting.

"I would also like to mention that it was not until I was about halfway through a Super Squats routine that I was bending red nails, so thanks for that also. I noticed on the program that all different facets of strength increased, and bending was no exception.

"One last thing, I would like to give a special thanks to Clay Edgin for taking the time to actually come to me at the gym for my certification bend, where the environment was first rate. He was kind enough to stay afterwards and give us some grip tips, and of course motivate myself and the others as well.

"Of course thanks to IronMind for having a roster for short benders to get recognition and a sense of accomplishment."

IronMind would like to add our thanks to Clay Edgin for serving as Larson Graff's referee and give a big Congratulations! to Larson Graff—it's official and your name has been added to the Red Nail Roster.


###

Visit the IronMind Forum: talk strength, discuss this story. Strongman, grip, Highland Games, Olympic lifting, stones and more.

You can also follow IronMind on Twitter.