Laine Snook: No. 4, Cabers and More
England's Laine Snook, the world record holder on the Rolling Thunder®, has plans for more big accomplishments in the grip strength world and beyond.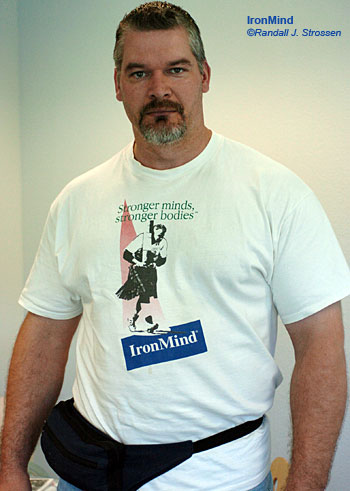 Laine Snook, world record holder on the Rolling Thunder® and a man who can clean the Inch Dumbbell, as well as give the No. 4 Captains of Crush® Gripper a real workout, honored IronMind® with a visit last year. IronMind® | Randall J. Strossen, Ph.D. photo.
Laine told IronMind®, "Training is going well, and I hope that I can increase my best on the Rolling Thunder®," which is saying something since Laine's world record stands at a whopping 274.2 pounds, done at Pullum Sports last year. But wait, there's more, because Laine added, "I also am giving the Inch dumbbell some serious attention - I have managed to clean it now for two reps and I have a mad notion that five reps is possible . . . we will see."

At the risk of sounding like a late-night TV commercial, there's still more, because this man with proven grip strength extraordinaire added, "I have made good gains on the CoC4 and would say that I am in the same area as Tex [Henderson] at the moment," which is a modest way of saying that Laine is knocking on the door of conquering the No. 4 Captains of Crush® Gripper.

Proving that he's a man of many talents, Laine, who comes from a throwing background, also told IronMind®, "I plan to make a return to Highland Games this season," adding, "it will be nice to meet up with old friends again."