Laine Snook: Huge Performance(s) on the Rolling Thunder
Laine Snook is no stranger to top performances in the grip strength world and yesterday he reinforced his position on the top rungs as he manhandled 300 lb. on the Rolling Thunder in a training session his nephew caught on video.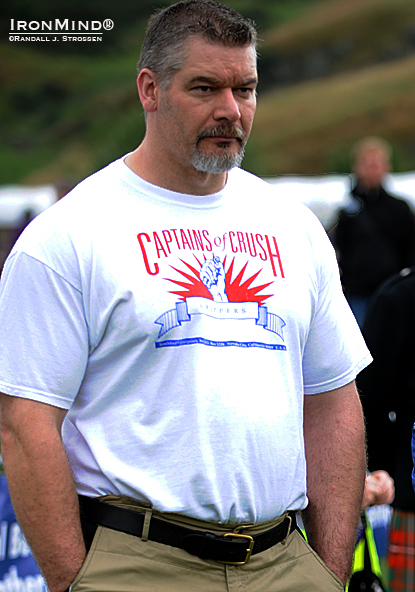 Laine Snook, shown watching the 2009 Highland Games World Championships (Edinburgh, Scotland), continues to do big things in the grip strength world and based on yesterday's workout, he's in a position to break the world record on the Rolling Thunder®. IronMind® | Randall J. Strossen photo.


Lifting the weight was the easy part as Snook was bitten by a technology gremlin and he ended up running through this sequence of lifts five times (if I counted right) before he finally thought he'd captured it on video.

Today, he said, it turns out that each of the sequences was recorded, but with that daunting series of 300-lb. lifts on the Rolling Thunder it's no wonder that Snook told IronMind, "Thumb doesn't feel too good today."

That's the sort of understatement we've come to associate with Laine Snook: skip the drama and instead, just pile on the plates and do the lift:

http://www.ironmind-forum.com/showthread.php?1575-Rolling-Thunder


###


The IronMind Forum: discuss this article, talk strength, get help with your training.

You can also follow IronMind on Twitter.