Laine Snook Does Reps with the Inver Stone
"I went to Scotland at the weekend for Highland Games," Laine Snook wrote IronMind, "and dropped in on the Inver Stone whilst I was there. WHAT A BEAST!"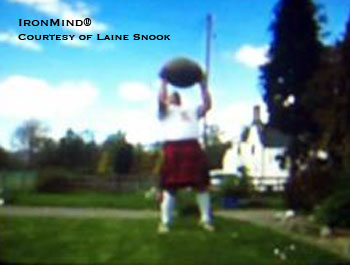 "I've seen better pictures of 'Bigfoot,'" quipped someone in the IronMind® office when they saw this image. That may be, but let's see him do this! IronMind® | Photo courtesy of Laine Snook.

So it is, but read on and then you decide if Laine doesn't have equal claim to that title.

"I managed to get the Inver Stone overhead three times in total - my biceps feel like they are going to fall off. The lady at the house witnessed the lifts, as did her neighbour."

Laine has also been busying himself wreaking havoc with thick-handled dumbbells, and he told IronMind® that he is "not a million miles from snatching the Inch dumbbell," and he is snatching a 154-lb. version of the Inch Dumbbell "on a regular basis." Snook also said that he is intent on cleaning the Millennium Dumbbell, and when asked if he has any plans to return to the Rolling Thunder® wars, the former world record holder said "yes," and he is thinking about going for a big pull on the Rolling Thunder® later this year.