Laine Snook Breaks Rolling Thunder World Record
No bluff, no bluster - just a great grip and the heart to put it to the test: Laine Snook destroyed the world record in the Rolling Thunder® today at Pullum Sports in Luton, England.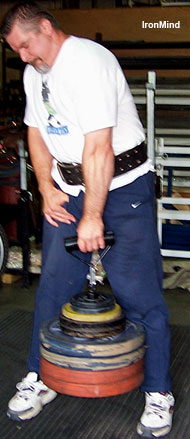 It's official: Laine Snook destroyed the Rolling Thunder World Record today at Pullum Sports, with a new mark of 274.2 pounds. IronMind® | Photo courtesy of Laine Snook.

About a week ago, Snook exceeded the Rolling Thunder world record under very credible conditions, so his chances of officially breaking it appeared excellent. With little time until Laine Snook was to undergo a medical procedure that would severely limit his training for a while, IronMind® and Pullum Sports worked together to arrange a Rolling Thunder contest on very short notice - open to all, but it offered the promise of a new world record on this benchmark feat of grip strength.

Laine Snook left no doubt about either what he has lifted in training or what he is capable of doing officially because after pulling a record-breaking 268.8 pounds today, Laine followed with a huge lift of 274.2 pounds, good for another new world record.

Congratulations Laine, and many thanks to Pullum Sports for helping to make this possible.