Ladies First: The Queen Opens for King of the Castle
"To support Finnish female athletes we will have a "Queen" competition as a warm-up for the King of the Castle™," the World's Strongest Man Experience, contest promoter Jyrki Rantanen told IronMind today.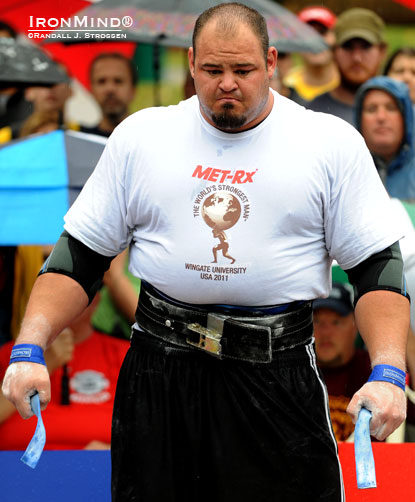 2011 MET-Rx World's Strongest Man winner Brian Shaw will be jousting for the title King of the Castle at the World's Strongest Man Experience in Hameenlinna, Finland on April 21, but before the king is crowned, promoter Jyrki Rantanen announced today that the queen will be named. IronMind® | Randall J. Strossen photo.


"First the audience is warmed up with 5 event show by the ladies, who can consider the competition as warm-up to the Finland´s Strongest Woman competition. The events for ladies are log lift, arm-over-arm pull, tire flip, farmer's medley and sack carry or stone lifting.

"We realized, that it would be waste of a good opportunity if we don´t introduce our country´s strong ladies to the audience and media during our event.

"Due the female show we will start the day one hour earlier, at 1 p.m., and first there will be the qualification for ladies, then the big boys are in for their first events; and prior to the men's final the top ladies will battle for their crown," Rantanen said, who is intent on growing strongman/strongwoman.

As part of their program, United Strongman will be helping to increase the visibility of both the athletes and "athletes' personal sponsors, who are many times one of the key factor for going forward in his/hers career," said Rantanen.

"So, we created our small sponsorship to the top 10 Athletes from each county regardless on which organization they compete—we don´t care about the organizations so much as we care about the athletes.

"Our sponsorship contains a personal page for TOP 4 open men, TOP 4 women and TOP 2 105 kg men from each country.

"The athletes can inclue a bio about themselves along with a photo, links to their personal www-pages, Youtube, Facebook or Twitter etc., pages, plus they are allowed to have their personal sponsor logos/links on these pages.

"That way each athlete might have at least a little better opportunity to find supporters for themselves.

"We invite any athlete, from any country who belongs to that TOP 10 list above in their countries to contact us for further instructions about when they can start sending their info to be published," Rantanen said.


###



The IronMind Forum: discuss this article, talk strength, get help with your training.

You can also follow IronMind on Twitter.