Krzysztof Radzikowski wins the MHP SCL Iceman IV
Kicking off the 2013 MHP Strongman Champions League season, SCL Lapland, "better known as the 'Iceman' was won last weekend by the new Polish strong kid Krzysztof Radzikowski," said Marcel Mostert.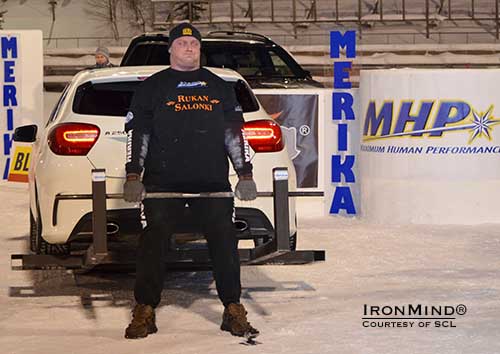 Krzysztof Radzikowski fought the winter weather as well as the events themselves to claim the Iceman IV title. IronMind® | Courtesy of SCL.


"In a snow white arena with a temperature of -18 degrees (at night -34) the strong Pole defeated the complete field, including local hero Tomi Lotta and Laurence Shahlaei from Iran, 2nd and 3rd place respectively.

"Especially on the MHP Viking Press with 165 kg, Krzysztof made a great impression. He did 11 reps and could have broken the world record by Ervin Katona (13 reps) easily. However, for the win it was not necessary and he saved his energy.

"The 3 times Iceman champion Zydrunas Savickas, was also present as a guest of honor, and now Krzysztof is a worthy strong new champion at the Iceman.

"In total, 8 events were needed to crown the new champion in this ice cold weather. Heavy, cold, difficult and new events were a challenge to the athletes in this weather, especially loading big, slippery ice cubes of 100 kg was a very special and 'ice cold' event.

"J-F Caron from Canada and the new champion of Latvia, Dainis Zageris, missed the podium by just a few points. Exciting it was for sure, especially as the number 5 in the final event still could easily could achieve a 2nd place.

"The MHP Fan Favorite Strongman title went to Tomi Lotta. He was 2nd in the contest but also put down a perfect show and the audience loved him so they chose him as the best performer of the competition. Tomi Lotta is back!

"Overall,again a great event and we look forward to be back next year, despite the coldness," Mostert said.

Here are the official overall points for the top six:
| | | |
| --- | --- | --- |
| 1. | Krzysztof Radzikowski | 77.5 |
| 2. | Tomi Lotta (2 event wins) | 68.0 |
| 3. | Laurence Shahlaei (1 event win) | 68.0 |
| 4. | J-F Caron | 66.5 |
| 5. | Dainis Jageris | 63.5 |
| 6. | Juha Matti Järvi | 58.5 |

### 



The IronMind Forum: discuss this article, talk strength, get help with your training.

You can also follow IronMind on Twitter.