Krzysztof Radzikowski Wins WSF–Uzebekstan
Krzysztof Radzikowski won the 4th stage of the WSF World Cup strongman tour—set in Tashkent, Uzbekistan.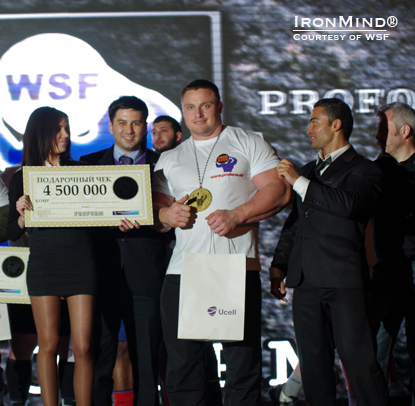 Poland's Krzysztof Radzikowski, who won the WSF Strongman Cup competition in Tashkent, Uzebekistan, is flanked by Timur Sabirov (right) and a Ucell representative (left), with WSF director Vlad Redkin on the far right. About that check: Are those US dollars?! IronMind® | Photo courtesy of WSF.


WSF founder Vlad Redkin told IronMind "the stage was excellent, +18 [64 F]. A lot of people [watched the contest], Uzbekistan TV filmed and will broadcast it!"

Accommodated in a "4-star hotel, all athletes are happy I think! No logos of WSM :). [There was] a great tour (excursion) to famous Samarkand for athletes."

And for all who were wondering whether Omid Amiri (ASF) was there since there had been conflicting stories of whether WSF and ASF were continuing to partner in strongman, IronMind asked Redkin directly: "No, of course he wasnt!"

"I am very happy! We have a great partner in Uzbekistan, Timur Sabirov, and thanks to PROFORM for support this excellent competition!"

Official Final Results
1. Krzysztof Radzikowski (Poland)
2. Sergey Trubitsin (Uzbekistan)
3. Mark Felix (UK)
4. Elbrus Nigmatullin (Russia)
5. Kote Janashia (Georgia)
6. Olexander Lashyn (Ukraine)
7. Tarmo Mitt (Estonia)
8. Espen Aune (Norway)
9. Antanas Abrutis(Lithuania)
10. Hamza Primov (Uzbekistan)
11. Kevin Nee (USA)
12. Sergio Fernandez (Spain)
13. Vastan Gevargian (Armenia)
14. Alexander Lapyrov (Belarus)

###

The IronMind Forum: discuss this article, talk strength, get help with your training.

You can also follow IronMind on Twitter.