Konstantin Filatov Certifies on the Red Nail
In the continuing the recent tradition of top performances in lower arm strength coming from Finland, Konstantin Filatov has just been certified on the IronMind Red Nail—a benchmark short steel bend.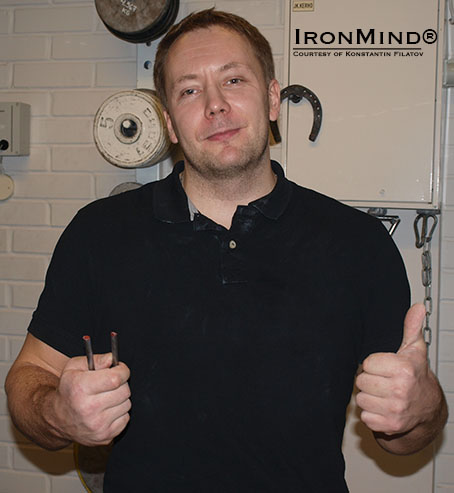 Konstantin Filatov has proven his mastery of the IronMind Red Nail. Next stop: the Captains of Crush No. 3 gripper and the Gold Nail. IronMind® | Photo courtesy of Konstantine Filatov


The 39-year old chief engineer on a ship told IronMind he has "a family and two children. I like grip training and old-style training with dumbbells and kettlebells. Next goals: CoC 3 (Captains of Crush No. 3 gripper) and Gold Nail."

Many thanks to Tomas Valverde for refereeing Konstantin Filatov's official attempt to bend an IronMind Red Nail and congratulations, Konstantin—your name has been added to the Red Nail Roster.

###



Want to talk strength? Join the IronMind Forum.

You can also follow IronMind on Twitter and on Facebook.