Kokkola Wrap-up: Heavy, Hard and Fun
It might be the signature blend of a Finnish strongman contest, and the Strongman Champions League competition in Kokkola over the weekend showed once again that being hard and heavy can still mean fun when it comes to strongman.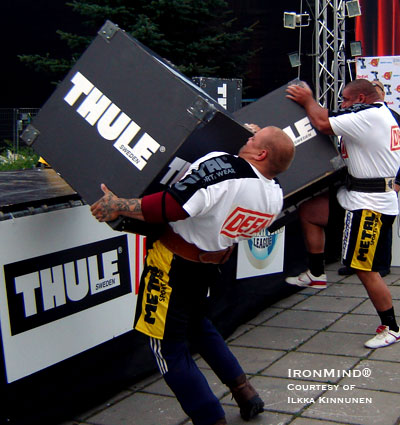 Loading 100-kg boxes is just another day in the office for top strongmen such as Pekka Halonen (left) and and Ervin Katona (right), who went through the paces in Kokkola, Finland this past weekend. IronMind® | Photo courtesy of Ilkka Kinnunen.


"Marcel [Mostert], Timo [Kangasluoma] and I want to thank all the athletes for the great performances that they made during the two days. We saw again some excellent results and battles. It was very tough two days with very heavy events . . . Ervin Katona called the ship pull my hardest pull ever,'" contest organizer Ilkka Kinnunen told IronMind®. "But even though the events were heavy and took a lot out of the athletes, they kept having fun with the audience and in front of the cameras, which shows that they really enjoyed their stay."

"Also, without all the support from sponsors, these events cannot happen, so I want to thank all the sponsors and TV for making this happen, and next year we will be back with even more action," said Kinnunen.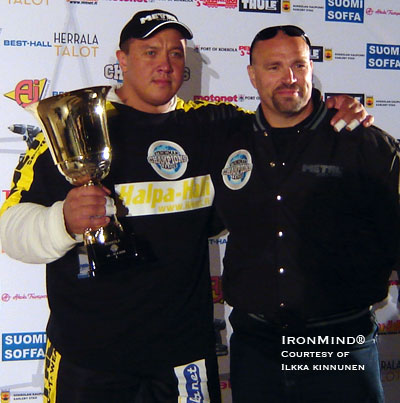 With two days of rugged competition behind them, Mikhail Koklyaev (left),winner of the Strongman Champions League contest in Kokkola, and Strongman Champions League organizer Ilkka Kinnunen (right) can relax. IronMind® | Photo courtesy of Ilkka Kinnunen.