Kobylarz Wins IHGF Strength Games World Challenge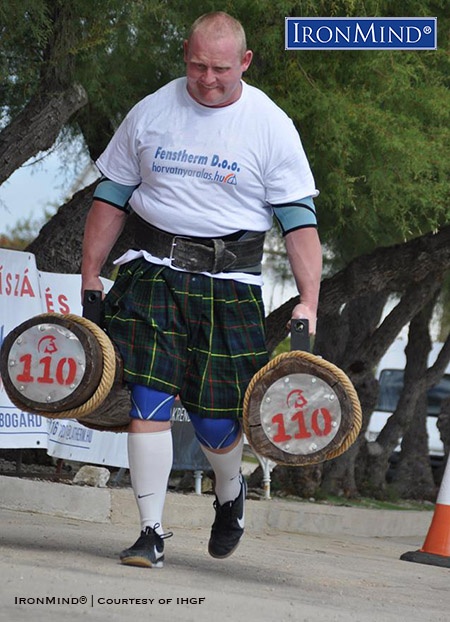 Rafal Kobylarz (Poland) added his third consecutive IHGF Strength Games World Challenge to his collection of championship titles.

2016 IHGF Strength Games World Challenge
by Francis Brebner
International Highland Games Federation (IHGF)

The 2016 IHGF Strength Games World Challenge, held in the tranquil location of Vodice, Croatia, set the stage for the showdown, which included strength athletes Rafal Kobylarz (Poland), Patrick van Antwerpen and Johan Langhorst (Netherlands), Tibor Kiss and Balazs Adorjan (Hungary),  and Chris Burke (USA).

In the weight over the bar, fixed at 4.40 m (14' 6"), the athletes had 75 sec. to throw a series of 5 weights ranging from 44 lb. to 56 lb. in the fastest time possible. Only two athletes cleared all 5 weights within the 75 sec., with Langhorst winning with a very fast time of 28.36 sec. In second place was Kobylarz at 33.23 sec. and third place, Kiss, who cleared 4 weights.

In the stone lift overhead, the athletes pressed a 250-lb. stone as many times as possible in 75 sec., a tough event for some of the athletes because of the stone's awkward shape. Only two athletes succeeded in this electrifying event: Kiss locked out a remarkable 2 reps, and van Antwerpen did 1 rep.

Kobylarz dominated the 18-lb. Braemar stone, with a fantastic putt of 46' 3", followed by Kiss at 41' 1" and Langhorst at 39'.

The 56-lb. weight for distance was a ding-dong battle between Kobylarz and van Antwerpen, with Kobylarz marginally claiming victory with a distance of 42' 9" over van Antwerpen's 42' 1"; third was Langhorst at 40' 2".

In the extra-heavy, 28-lb. hammer, Kobylarz let fly with an impressive 80' 6" for the win. Second place was very close, with van Antwerpen just nudging ahead of Langhorst by an inch, 74' 7" to 74' 6".

In the farmer's walk, the athletes carried two cylinders weighing 250-lb. each over a 50 m course with 75 sec. to complete the challenge. Kobylarz won with a super-fast time of 19.09 sec., followed by Kiss at 21.53 sec. and van Antwerpen at 22.49 sec.

The final event, the Atlas stones for reps, would decide the winner, and the athletes were required to lift an Atlas stone weighing 337 lb. over a 4' bar for reps. Burke attacked, pumping out a total of 7 reps to tie van Antwerpen; third place was a three-way tie between Langhorst, Kobylarz and Kiss at 6 reps. Kobylarz managed to hang on to the overall title by a mere point over van Antwerpen.  

Overall points
| | | | |
| --- | --- | --- | --- |
| 1. | Rafal Kobylarz | Poland |  32.0 |
| 2. | Patrick van Antwerpen  | Netherlands |  31.0 |
| 3. | Tibor Kiss | Hungary |  26.5 |
| 4. | Johan Langhosrt | Netherlands |  24.0 |
| 5. | Chris Burke | USA | 12.5 |
| 6. | Balazs Adorjan | Hungary |  8.0 |


Adam Darazs of Hungary, IHGF partner and promoter of the event, noted that the spectators really enjoy the concept of combined strength and throwing events, which is also good viewing for the TV audience. IHGF's Francis Brebner noted that an exciting and unique location for next year's IHGF Strength Games World Challenge in Europe is being considered.
 
                                       ###



You can also follow IronMind on Twitter and on Facebook.                        



Want to talk grip, strongman, weightlifting . . . everything strength? Visit the IronMind Forum.