King of the Castle: Magnus Ver, Jouko and Janne will Rule
Four-time World's Strongest Man winner Magnus Ver Magnusson will be refereeing at King of the Castle—the World's Strongest Man Experience taking place in Hameenlinna, Finland—along with both Jouko Ahola and Janne Virtanen, who have won the contest another three times between them.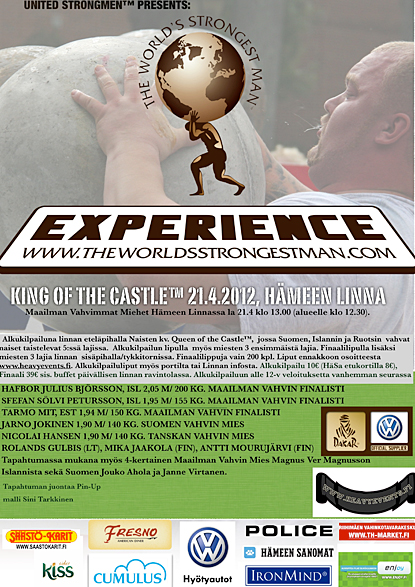 Who will be King of the Castle, when the World's Strongest Man experience comes to Hameenlinna, Finland next month? IronMind® | Artwork courtesy of United Strongmen™.


And with Brian Shaw injured, Stefan Solvi Petursson has been added to the lineup for the World's Strongest Man Experience, which now sports three Icelanders as either competitors or officials.

"I'm honored to be going to Finland in April to represent the sport of strongman and the World's Strongest Man TV show to the Finnish people," Stefan Solvi Petursson told IronMind. "Finland has been silent for too long in the strongman world. It's time to shake things up over there."

Contest organizer Jyrki Rantanen said, "We were sad when realized that we lost missed Brian Shaw from our show due his injury in Arnold. He´s already stamped his footstep to the history of our sport and plenty of Finnish fans was waiting to see the reigning WSM live—it is very hard to match even close, but we do our best. Athletes´s injuries are always very negative news, but especially in this case where the champion cannot enjoy fully the benefits of the championship year it is even more sadder. With my photo from the Arnold´s, where Brian pulled huge DLs with already ripped muscle, we want to wish him a speedy recovery, hopefully already to WSM, and we also wish to see him in Finland for WSM Experience 2013."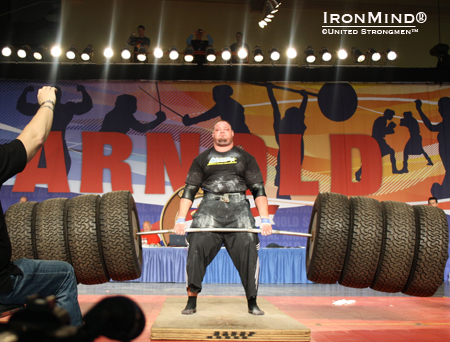 Brian Shaw was injured at the Arnold, forcing him to pull out of the World's Strongest Man Experience. IronMind® | Photo courtesy of United Strongmen™.

###

The IronMind Forum: discuss this article, talk strength, get help with your training.

You can also follow IronMind on Twitter.