King of Stones: Travis Ortmayer
Coming into the FitExpo Strongman contest, Odd Haugen had predicted not just a handful of great performances in the stone loading event, but proof positive that things had been taken to a new level: Haugen's prediction came true and the man left standing at the end of the event was Travis Ortmayer.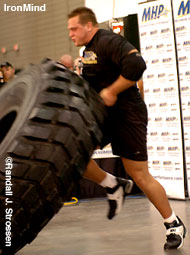 On his way to victory and a pro card at the 2004 NAS Championships - this was just the beginning for Travis Ortmayer, who rolled to the overall win at the FitExpo and showed that he's the new top dog in stone loading. IronMind® | Randall J. Strossen photo.
"Stones have a mind of their own," Ortmayer told IronMind®, explaining that to be successful, you have to first lose your mind and then just attack them. Ortmayer said that standing over a stone and thinking about it is a sure way to fail with it, and since he has never missed a stone in competition, you might be wise to follow Ortmayer's advice. Ortmayer admits that his track record gives him confidence when he faces off with a stone, but his approach is applicable to anyone.

Wouldn't you guess it, Magnus Samuelsson, along with Svend Karlsen, were the guys who most inspired Travis Ortmayer, and with the way he's going, it won't be long before Ortmayer himself is inspiring a bunch of young guys.

Kidded about quitting while he's ahead this year, Ortmayer said he's hoping that maybe he will end up getting the call to compete in Columbus - right now, he's the first alternate for the Arnold Strongman contest. Not one to duck competition, Ortmayer said that he plans to compete in all the pro national qualifiers IFSA holds this year, then the IFSA USA Nationals. He said that he'd also like to win the IFSA Pan Am Championships and then have a podium finish at the IFSA World Championships to wrap up 2006.

Ortmayer likened his matchup with Jesse Marunde this weekend to a college football rivalry - a top young guy from IFSA and a top young guy from World's Strongest Man - and he said the competition brought out the best in both guys. "Jesse has just really come up in his speed and strength - it would be hard to improve his explosive power, but he's done that too," Ortmayer said. And with Travis Ortmayer's performance this weekend, you can imagine what people are saying about him, too.