"Killer Lineup" for SCL Holland
"This coming weekend, at the MHP Strongman Champions League Holland, the 6th stage 2013, you can see a fantastic lineup again in strongman—it's a killer lineup," Marcel Mostert told IronMind.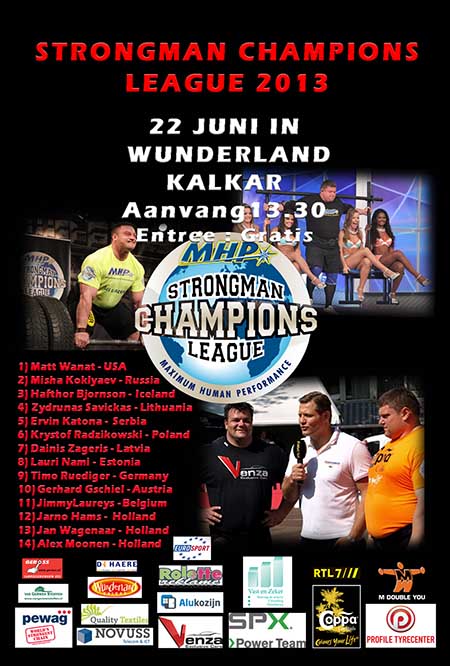 The MHP Strongman Champions League Holland boasts a starting field with some of the top names on the professional strongman circuit—both established stars and new guys on the rise. IronMind® | Image courtesy of SCL.



"What to think of the first competition this year from SCL World Champion Zydrunas Savickas against current SCL leader Krzysztof Radzikowski, Thor, the big Icelander, Ervin Katona, Lauri Nami, new talent Dainis Zageris and the Russian strongman Misha Koklyaev?
"Will the Dutch contingent—Jarno Hams, Jan Wagenaar and Alex Moonen—stand against this brute force from all over the world?
"You can see it coming Saturday at the theme park 'Wunderland," in Kalkar—just over the border in Germany.

"A heavy 430-kg Yoke, Truck Pull, Loading, Carry and Drag , Atlas Stones and the Log Lift for max will be the events for the fight.

"Zydrunas Savickas is thinking as well to break a new world record again in the log lift—he is, again, stronger than ever!
"Impossible? Come and see at 22 june, 13.30 LIVE in Wunderland!"

Complete line up;
1. Zydrunas Savickas (Lithuania)
2. Krzysztof Radzikowski (Poland
)
3. Misha Koklyaev (Russia)
4. Hafthor Julius Bjornsson (Iceland)
5. Martin Wildauer (Austria)
6. Matt Wanat (USA)
7. Ervin Katona (Serbia)
8. Dainis Zageris (Latvia)
9. Lauri Nami (Estonia)
10. Timo Ruediger (Germany 

11. Jimmy Laureys (Belgium)

12. Jarno Hams (Holland)

13. Jan Wagenaar (Holland)

14. Alex Moonen (Holland)

"And even before 'the killing fields' starts, you can watch already some of these champions at 21 June, 23.15 hours, on Eurosport: The 3rd stage: MHP Strongman Champions League Serbia 2013," said Mostert.

###


Visit the IronMind Forum: talk strength, discuss this story. Strongman, grip, Highland Games, Olympic lifting, stones and more.

You can also follow IronMind on Twitter and on Facebook.