Kiev: Strongman Champions League 2010 Grand Finale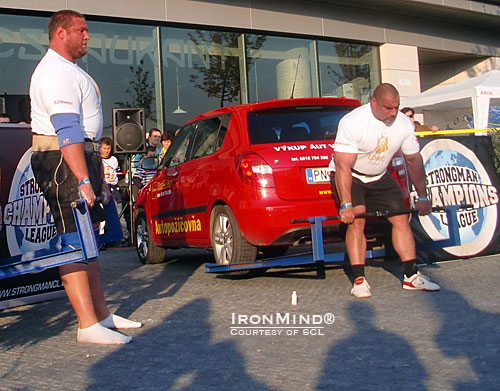 Terry Hollands (left) and Ervin Katona (right) are coming into the 2010 Strongman Champions League Grand Finale in first and second place, respectively. Who will leave Kiev as the overall SCL champion this year? IronMind® | SCL photo.


The very popular top British strongman Terry Hollands got off to a roaring start this year and seemed destined for the World's Strongest Man podium among other things, but he got slowed down by a torn biceps. The big man bounced back and he'll be in Kiev, coming into the SCL finals as the overall points leader. IronMind® | Randall J. Strossen photo.

SCL cofounder Marcel Mostert told IronMind that "almost 50 athletes competed in the SCL" this year, with "the top 8 automatically qualified" for the SCL Grand Finale, and "number 9 and 10 as a reserve [Warrick Brant and Golier Brano]." The host country's Sergei Romanchuk will also compete, Mostert said, "and we might have a few wildcards left."

"The points for the final will be counted as double points, which means that the winner gets 50 points, number 2 gets 36 points, etc."

SCL top eight overall:

| | | |
| --- | --- | --- |
| 1. | Terry Hollands (England) | 112 |
| 2. | Ervin Katona (Serbia) | 102 |
| 3. | Travis Ortmayer (USA) | 77 |
| 4. | Misha Kolyaev (Russia) | 68 |
| 5. | Agris Kazelniks (Latvia) | 59 |
| 6. | Zydrunas Savickas (Lithuania) | 50 |
| 7. | Konstiantyn Ilin (Ukarine) | 36 |
| 8. | Johannes Arsjo | 28 |
Based on the way the finals will be scored, Mostert said, "This means that the absolute winner can be still [any] one of the top four athletes in the ranking, and theoretically the number 8 can still get a third place overall."


The overall SCL title was won by Andrus Murumets in 2009 and by Zydrunas Savickas in 2008. For a complete list of SCL point standings this season, please visit the official SCL website (see Results 2010 and Rankings).
Firm about the position of SCL in the strongman world, Marcel Mostert told IronMind, "The Strongman Champions League is at the moment the biggest and most important league in the world for strongman athletes!"

###

Want to talk strength? Join the IronMind Forum!

You can also follow IronMind on Twitter.