Kevin Nee Competing at the World Strongman Super Series Mohegan Sun Grand Prix
Kevin Nee, a local boy who grew into a professional strongman, is returning to the other side of the microphone at the 2010 World Strongman Super Series Mohegan Sun Grand Prix this Sunday, April 25, as he makes his comeback.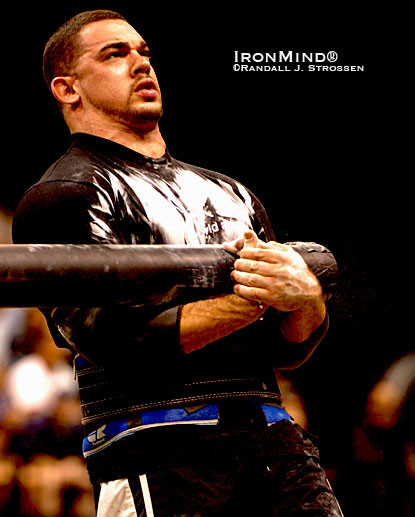 Kevin Nee—who flashed through the professional strongman ranks only to face setbacks from injuries—will be returning to competition at the Mohegan Sun on Sunday. IronMind® | Randall J. Strossen photo.


"As far as being back at Mohegan Sun, I am more than ecstatic. I have been involved with the Mohegan Sun contest since it began in 2005, which was my very first international contest as a pro heavyweight. Every year I progressively placed higher and higher at this contest, and I think a lot of it has to do with being so close to my home base of Massachusetts," Kevin Nee told IronMind®.

"When I was 19 I got 7th place, at 20 I dropped from 2nd to 5th place on the last event, and by 21 I placed 2nd, behind MP [Mariusz Pudzianowski]. Unfortunately 2008 and 2009 I was sidelined due to biceps tears and surgeries, so this will be first contest back since World's Strongest Man 2009 and the time in between has been a much needed rest.

"Although I had a great time emceeing and maintaining my involvement in '08 and '09, I am a true competitor and this is where I belong. I was so excited to do this contest that I actually got the invite while I was still in the hospital a week and a half ago, from an unrelated illness, and immediately committed knowing I could and would do whatever it took to get myself back and ready for a great show at Mohegan Sun.

"A lot of people wondered if I would be ready because of my short break early this season, but I did a lot of soul searching and realized that I don't want to be a shooting star. I am 24 years old, still a mere baby in the sport, and I want to be around for many years to come.

"In addition to taking the time to explore my plans in regards to my future in the sport, in December I got engaged and thus began to plan for my future on a larger scale which lead me to some exciting business ventures, which allows me to combine my business degree and work in the strongman world. This is a very exciting and fresh period in my life, and I am more than ready to get back to the competitions that I love so much," said Nee.