Kazakhstan Gets Gold and Silver
Almaty—With Vladimir Sedov (Kazakhstan) sitting in first place in the total in the 94-kg class at the World Weightlifting Championships and his teammate Zhassulan Kydyrbayev in second, the crowd packing the competition hall could not be happier,
but things to get even better because with one attempt to go, Kydyrbayev smoked a 229-kg clean and jerk to leapfrog over Sedov.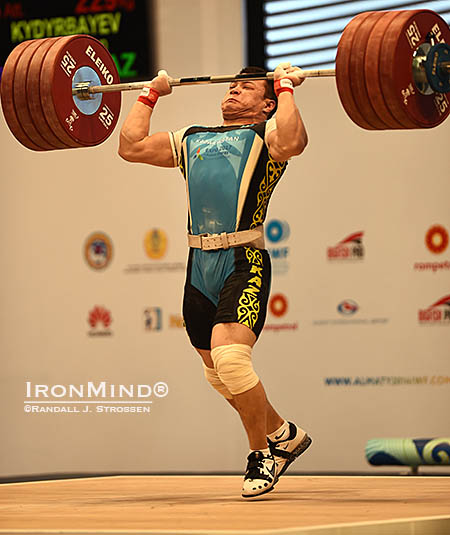 Driving himself under this 229-kg jerk, Zhassulan Kydyrbayev turned silver into gold. IronMind® | Randall J. Strossen photo


Pre-contest favorite Adrian Zielinski (Poland) bombed out in the snatch and the man of the hour was Sedov, who uncorked a world record equalling 188-kg lift. Silver medal in the snatch went to Aurimas Didzbalis (Lithuania) who celebrated his 185-kg third attempt success with a backflip that lit up the venue. Kydyrbayev got the bronze medal.

As hot things were tonight and as much as the results pleased the crowd, one can't help but think this was the opening act for the Ilya Illin show, which comes to town tomorrow night, so stay tuned.

###


Visit the IronMind Forum: talk strength, discuss this story. Strongman, grip, Highland Games, Olympic lifting, stones and more.

You can also follow IronMind on Twitter and on Facebook.