Doha - With his teammate getting top honors in the 85s, the stage was set for Ilya Ilin to keep Kazakhstan on a roll.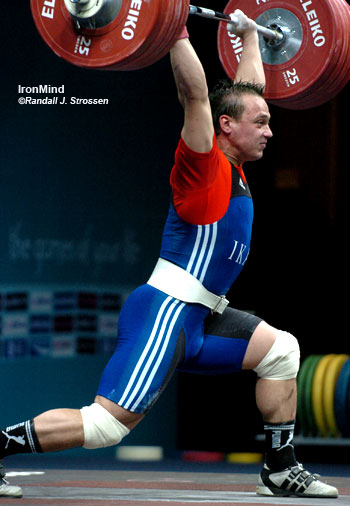 Ilya Ilin continued his winning ways at the Asian Games today - winning the 94-kg category and breaking his own Asian record in the clean and jerk with this lift of 226 kg. IronMind® | Randall J. Strossen, Ph.D. photo.
All eyes were on the Ilya Ilin, who didn't disappoint his fans: rolling through three good snatches - 162 kg, 166 kg and then 171 kg - he was off to a good start, but it was the clean and jerk that held the promise of fireworks.

Opening with 205, he got knocked back on a his heels a little when he caught the bar, but he hung on, stood up and punched the weight overhead. Next up was 215, which he once again dispatched without hesitation. Ilin came into the contest holding the Asian record in the clean and jerk, at 225 kg, and he left still owning the record, only he bumped it up to 226 on his third attempt - once again got rocked a little on the clean, but stayed with it, and then left no doubt about the jerk. Ilin finished with a 397-kg total, followed by Lee Ung Jo (Korea) with 370. Hsieh Wei Chun (Tapei) bumped Ramzi Al Mahrous (Kingdom of Saudi Arabia) on bodyweight, getting the bronze medal with a 355-kg total.