Kaz is Doing 2005 World's Strongest Man
Bill Kazmaier told IronMind® today that he is, in fact, doing the World's Strongest Man contest again this year.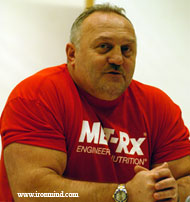 Bill Kazmaier, always in demand, leads a seminar at the 2005 FitExpo (Pasadena, California). IronMind® | Randall J. Strossen, Ph.D. photo.

There had been widespread speculation about whether or not Bill Kazmaier would be returning to call the shots for WSM '05 as he had been in the middle of mighty efforts to pull him one way or the other.

"The only thing that's certain about the future of strongman is that nothing is certain," said the iconic strongman turned the world's most sought after strongman commentator, but then he was quick to affirm his feeling that the World's Strongest Man contest remains the top event in the field, with no small thanks to the people running it.

"Whether they know him personally or not, Barry Frank is the strongman's best friend," Kazmaier said, referring to the TWI executive who has been behind the World's Strongest Man contest for nearly three decades.