Kaz Fired Up for Mohegan Sun
Bill Kazmaier will be flying in from an appearance at the Elmendorf Air Force Base in Alaska just in time for the WSMSS Mohegan Sun Grand Prix, but given how stoked he is about this contest, he shrugs off the effort.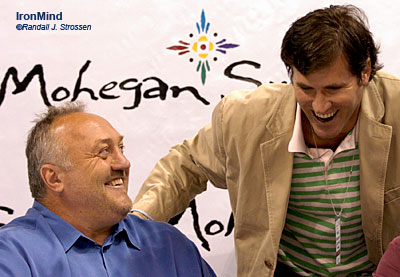 Bill Kazmaier and IMG's Geoff Cochrane share a laugh at the 2006 WSMSS Mohegan Sun Grand Prix. IronMind® | Randall J. Strossen, Ph.D. photo.
"With this being a World's Strongest Man Super Series event, leading up to the World's Strongest Man contest, I think this is on its way to becoming a classic event in America. This is a tremendous partnership with the Mohegan Sun," Bill Kazmaier told IronMind®. "This is the only place in the US where you can see a strongman contest of this caliber in a world-class arena. I highly recommend that you go to this contest - the electricity generated by the crowd when these guys go head to head is going to be unbelievable."

World class certainly describes the Mohegan Sun Casino and Resort and what more needs to be said about the contest itself since it features such big names as three-time World's Strongest Man winner Mariusz Pudzianowski and local-kid-made-good Kevin Nee? This contest is the gateway to the 2007 MET-Rx World's Strongest Man contest, so the stakes are high . . . ensuring all-out performances that are sure to light up the arena.

Scheduled for April 22, please check the official Mohegan Sun Casino & Resort's website for ticket details.