Kaz: Calling the Action at the Rolling Thunder® World Championships
"The Voice of Strongman," Bill Kazmaier, will be doing the honors behind the microphone at the 2008 Rolling Thunder® World Championships this Friday at the Mohegan Sun - and since everyone wants to lift his best in front of this iconic strongman and strong man, big numbers are looking even more likely when many of the strongest hands in the world try to grab the title.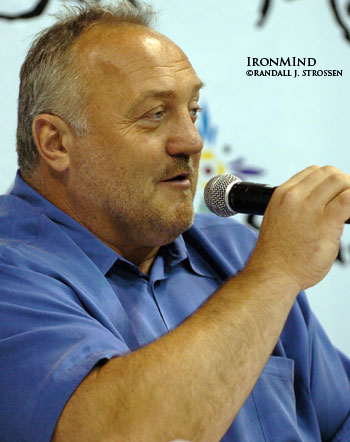 How'd we get so lucky? The Mighty Kaz will be calling the action at the Rolling Thunder® World Championships at the Mohegan Sun this Friday. If you're looking for a 10-kg PR, we think that "The Voice of Strongman" will provide the edge you need - Bill Kazmaier might not levitate the weight for you, but he will motivate you and bring out your best. IronMind® | Randall J. Strossen photo.


Will we see the first legitimate 300-pound lift? Will the big training numbers vanish like a snowball on a hot summer day? Will everyone on the podium pull something north of 250 pounds? Will a walk-on demonstrate what showing a strong hand at the Mohegan Sun is all about?

Time will tell, but for now, this much is clear: At 9:00 p.m. this Friday (January 18), the Spring Gateway at Mohegan Sun is where you want to be . . . whether you are a competitor or a fan, this is the perfect warm up for the WSMSS Mohegan Sun Grand Prix, which is the next night.