Katsuya Kawasaki: The Newest Teenage Captains of Crush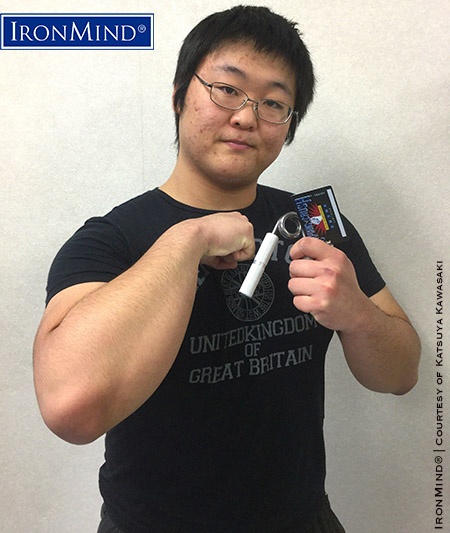 18-year old Katsuya Kawasaki (Japan) has just been certified on the Captains of Crush No. 3 gripper, and from the sound of things, even more might be on the way.

Kawasaki told IronMind, "I have been training for two years, since I was 16 years old. I learned [about] CoC [Captains of Crush grippers] on the internet. At first we aimed to close No. 2."

Kawasaki is a high school student whose hobby is listening to music—he trains twice a week and said that he can close the Captains of Crush No. 3.5 gripper and "the goal is to close No. 4."

Getting certified on the Captains of Crush No. 3 gripper is more than an ultimate feat of grip strength as this achievement is recognized throughout the strength world—not only has Katsuya Kawasaki done this, but even more, by doing it as a teenager he merits special recognition: In view of his accomplishment, IronMind is contributing $500 to the educational trust fund established for the children of Jesse Marunde, "the first teenage Captains of Crush."

Congratulations, Katsuya Kawasaki—your name has been added to the official certification list for the Captains of Crush No. 3 gripper.
Many thanks to Matt Brocklebank for refereeing Katsuya Kawasaki's successful official attempt.

                                                ###



You can also follow IronMind on Twitter, Instagram and on Facebook.                        



Want to talk grip, strongman, weightlifting . . . everything strength? Visit the IronMind Forum.