Kasabiev and Grikurovi: Off To Georgia
It began as the 90-kg class, later morphed into the 91-kg class, and now it's the 94-kg class, but no matter because one thing is clear: Ivane Grikurovi - the outstanding Georgian weightlifting coach - seems to have a special ability for producing some the category's top lifters.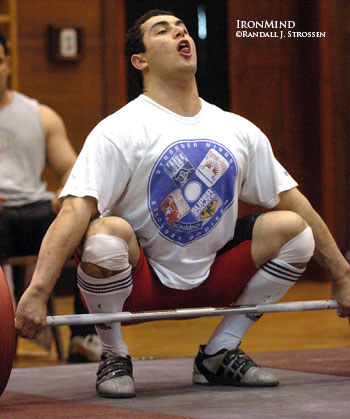 Arsen Kasabiev (Georgia), shown starting his warmups at the 2006 European Weightlifting Championships, is considered a medal favorite at the Olympics later this year. IronMind® | Randall J. Strossen photo.

It started with Kakhi Kakhiashvili, went on to include Szymon Kolecki and, most recently, Arsen Kasabiev joined the club.

Kasabiev, the 2005 Junior World Champion, won the gold medal in the jerk at the 2006 Senior European Championships, and is in the early stages of his bid for a medal at the 2008 Olympics. Both Kasabiev and Kolecki had been training with Ivane Grikurovi in Ciechanow, Poland, but yesterday Ivane Grikurovi told IronMind that he and Arsen Kasabiev are returning to Georgia, as their preparation for Beijing continues, while Szymon Kolecki will remain in Poland, training as a member of the Polish National Team.