Karl Gillingham Signs with GNC
Karl Gillingham, a top American strongman since the late 1990s, has just been signed by GNC.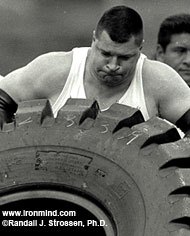 Karl Gillingham, whose consistency puts him head and shoulders above the crowd, gives it to the tire at the 1999 Beauty and the Beast strongman contest (Honolulu, Hawaii). IronMind® | Randall J. Strossen, Ph.D. photo.

"Karl's going to be a great spokesperson," said GNC Senior PR Coordinator Jaime Young. "We've very excited to have him," Young said, pointing to Karl's expertise in the field and his firsthand knowledge of the benefits of using high-quality supplements. Karl will be joining his brothers, noted Young, as both Brad and Wade also represent GNC Pro Performance.

Karl's consistency as strongman sets him apart and his top performances include winning the 2002 Northeast Strongman Showdown (against a field that included Svend Karlsen, Phil Pfister, Jesse Marunde and Jarek Dymek, among other notables), and at the most recent professional US Championships, Karl blistered the stones in American-record time.