Juha Harju Wins Finnish Open Grip Championships
The first Finnish Open Grip Championships was held this weekend and Juha Harju was the proud winner.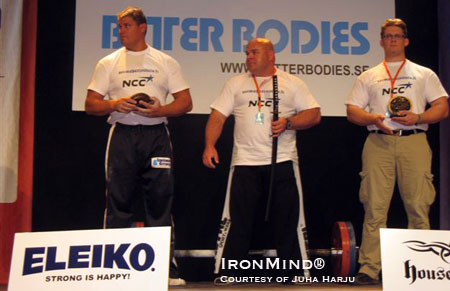 Juha Harju (center) had the winning grip in Finland over the weekend. Janne Virtanen (left) and Timo Tuukkanen (right) are relatively new to grip strength contests, but are having fun and making their presence felt. IronMind® | Photo courtesy of Juha Harju.


The top lift on the IronMind® Rolling Thunder® was 90 kg; Juha Harju set a new Finnish record on the European pinch grip device, lifting 100 kg; three competitors closed the IronMind® No. 3 Captains of Crush® Gripper; and Janne Virtanen set a new world record on the double overhead deadlift on the Apollon's Axle with a lift of 215 kg.

Here are the top three overall:

1. Juha Harju
2. Timo Tuukkanen
3. Janne Virtanen
This competition was organized and run by Sakari Selkäinaho and Kimmo Kokko, who have been at the forefront in bringing grip strength contests to Finland.