Juergen Spiess: Big Win in the 94s
Bucharest - Coming off a top performance at the Arnold Sports Festival, Juergen Spiess was nearly perfect last night, so when others came up short, the 94-kg lifter was in the perfect position to capitalize on the situation, which left him with two gold medals and one silver medal at the European Weightlifting Championships.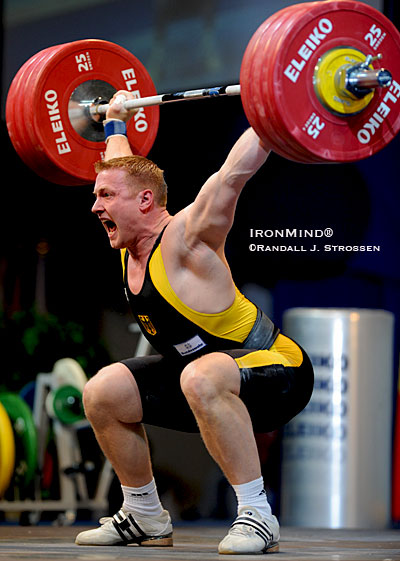 Juergen Spiess (Germany) on his way back up with 178 kg in the snatch at the European Weightlifting Championships. IronMind® | Randall J. Strossen photo.


Juergen Spiess, along with his Olympic teammates Almir Velagic and Matthias Steiner, had come to the Arnold for the IronMind Invitational and the day before lifting on the main stage of the Expo Hall, Speiss and Velagic were going for broke in a mini-contest we had arranged in the Grand Ballroom, following the USA Powerlifting raw meet. Spiess was aiming to set a PR snatch, going for 175 kg, and he succeeded.

Here, he absolutely smoked that weight on his second attempt and then ripped through 178 kg on his third attempt. Only Artem Ivanov (Ukraine) had a better night: hitting 175 kg, 179 kg and then 182 kg. Nikolaos Kourtides (Greece) got the bronze medal with his 175-kg lift, and Russia's Andrey Demanov finished out of the money - missing 170 kg up and over on his first attempt, making it on his second attempt, and then having a repeat of his first attempt, this time with 175 kg, on his final lift.

Having run into problems on the jerk before, it was not wholly surprising that Demanov missed the jerk on his opener, and when he did the same thing on his second attempt, he ended his chances of a top position. Ivanov, a power jerker, missed the jerk with 210 kg three times, so now the landscape was changing rapidly.

Spiess, who had opened with 208 kg, made 212 kg on his second attempt, so when Kourtides couldn't stand up with 216 kg on his second attempt and then missed the jerk with it on his third attempt, the German team had a big cause to celebrate. Having the jerk and total gold medals in his hand, Spiess took 218 kg on his third attempt, for what would have been a big PR, but he missed the jerk. No matter, he'd done himself proud and served notice with his 390-kg total that he's a world class 94-kg weightlifter.