Jouko Ahola: "Best Ever World's Strongest Man"
He's a two-time World's Strongest Man winner, an ace equipment and event designer, but even more than that, Jouko Ahola is one of the most respected names in the strongman field, so when he calls this year's MET-Rx World's Strongest Man cobtest "the best ever," it's time to listen up.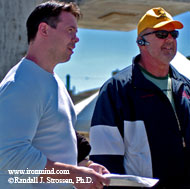 Jouko Ahola (left), shown with Odd Haugen, is heaping praise on the field for this year's WSM contest. "Mr. Haugen was just perfect" during the practice session using the actual contest equipment, Ahola said. IronMind® | Randall J. Strossen, Ph.D. photo.
"Strongman has never seen anything like this before," Ahola said, describing the opening ceremony with "about 600 guests . . . so many Chinese athletes and dancers. You can't imagine what it was like."

And as for the 2006 WSM contest, Ahola said that based on what he has seen, "this is the best competition ever."

"The US guys look great," Ahola told IronMind®, "especially Pfister."

Pfister, an honest-to-goodness member of the Charleston, West Virginia Fire Department and a MILO® coverguy, is on everyone's short list in this year's contest, but Ahola just raised the ante another level. "Pfister has a chance to compete against Mariusz," Ahola said. While making it clear that anything can happen, Ahola tagged Pfister as the man most likely to dethrone the defending champion, Mariusz Pudzianowski, but he also sang he praises of the "old guys," Janne Virtanen and Magnus Samuelsson.

It's hot, hot, hot in Sanya, Ahola told IronMind®, and humid, too. Ahola said it's 50 degrees Celsius in the sun, which converts to a sizzling 122 degrees Fahrenheit. Even in the shade, Ahola said, it's about 35 - 40 degrees Celsius (95 - 104 degrees Fahrenheit). "That could be a factor," Ahola said.

All the athletes have been testing the event equipment, Ahola said, so the stage is set for the 2006 MET-Rx World's Strongest Man contest - pick your favorite and get ready to cheer.