Jordan Steffens Wins the Australian Stone Lifting Championships
One of the highlights of the past weekend's Bundanoon Highland Games in New South Wales, Australia was the Australian Stone Lifting Championships, which was won by Jordan Steffans.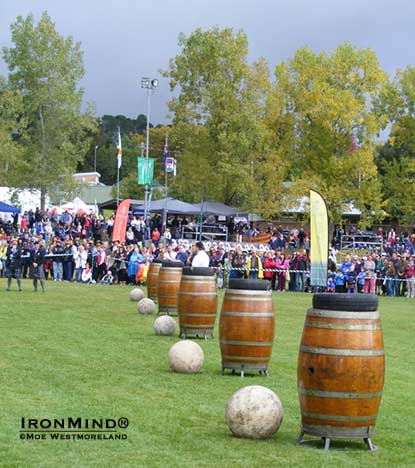 Here's the classic event layout for the Australian Stone Lifting Championships. IronMind® | Photo courtesy of Moe Westmoreland.


The contest consider of loading a series of five stones (100 kg, 115 kg, 125kg, 140kgs and 165 kg.) on barrels.


"This event was organized by David Huxley, himself a former Highland Games and strongman competitor, and the president of the Tartan Warriors, which was the organizer of the Australian Stone Lifting Championships," Francis Brebner reported to IronMind.

"These championships were celebrating their twentieth year of continual participation at Bundanoon Highland Games and this year sees the changing of the guard regarding appearances of past champions with Craig Reid and Derek Boyer both in retirement having won an impressive ten Australian Stone Lifting championships between them," Brebner said.

Overall Results
1. Jordan Steffens
2. Luke Reynolds
3. Moe Westmoreland
4. Aaron Monks

###

Visit the IronMind Forum: talk strength, discuss this story. Strongman, grip, Highland Games, Olympic lifting, stones and more.

You can also follow IronMind on Twitter.