Jonathan Hoffmann Certifies on the Captains of Crush No. 3 Gripper
Kicking off the 2014 California Armwrestling Championships at the Los Angeles FitExpo yesterday, Jonathan Hoffmann shook hands with the Captains of Crush No. 3 gripper, clamped down and put it away.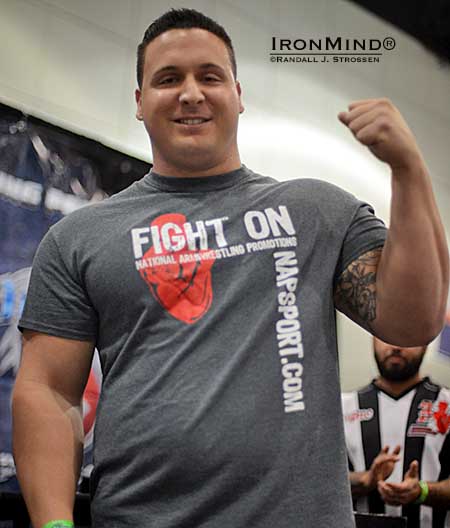 Professional arm wrestler Jonathan Hoffmann has been certified on the Captains of Crush No. 3 gripper. IronMind® | Randall J. Strossen photo


26-year old Hoffmann owns a mortgage company, but don't be fooled into thinking that means he's a passive desk jockey: besides being a professional arm wrestler, Hoffmann is a USPF and AAU world record holder in the bench press. The 6' 2", 260-lb. Hoffmann told IronMind, "I have the most beautiful wife and baby in the world."

Many thanks to arm wrestling honcho Bill Collins for doing the honors as Jonathan's referee, not to mention staging this arm wrestling contest at the LA FitExpo. Congratulations, Jonathan—your name has been added to the official Captains of Crush No. gripper certification list.

###



Visit the IronMind Forum: talk strength, discuss this story. Strongman, grip, Highland Games, Olympic lifting, stones and more.

You can also follow IronMind on Twitter and on Facebook.