Jon Pall Sigmarsson: "It's His Charisma"
Formerly a top powerlifter and strongman, now a contest promoter and a filmmaker, Hjalti Arnason knew Jon Pall Sigmarsson when "he was a young kid in school," and later they lived, trained and competed together - which is why IronMind® turned to Arnason with a straightforward question: "What was it . . . why did so many people love Jon Pall so much?"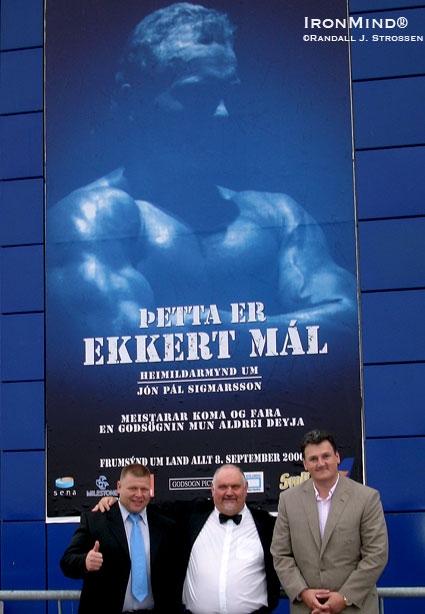 "It's not a problem for Jon Pall." Hjalti Arnason, Douglas Edmunds and Mark Higgins (left to right) outside the Smarabio theater in Reykjavik, at the premiere of the Jon Pal Sigmarsson documentary by Hjalti Arnason and Steingrimur Thordarson. IronMind® | Randall J. Strossen photo.


"It was his charisma . . . He was the first [strongman] to become a household name in Europe," Arnason said, and, certainly, while strongman aficionados might debate the relative strengths of one top competitor versus another, the supremacy of Jon Pall Sigmarsson's popularity appears unchallenged.

"Jon Pall was always so happy," Arnason told IronMind®. "He made other people feel good . . . and there is demand for that kind of person in television."

Known also for his outgoing personality, Jon Pall Sigmarsson was more complex than that, Arnason explained.

"He was a humble, shy kind of guy, but when he competed, he became aggressive, self-confident. I think he decided to do this consciously, to help him believe in himself," said Arnason.

The film on Jon Pall Sigmarsson made by Hjalti Arnason and Steingrimur Thordarsson set a new standard for documentary coverage of a strongman, and polls indicate that it remains one of the most popular films in Iceland, Arnason said - a tribute to both the man himself and the filmmakers.