Jon Pall DVD: It's Here . . . in English!
OK, MILO readers know about the film's premiere in Reykjavik last year, and ever since the Jon Pall Sigmarsson film first hit the screen, it has been a sensation . . . the team of Hjalti Arnason and Steingrimur Thordason broke new ground with this film and no subject in the strength world was better suited for this than the legendary Icelandic strongman Jon Pall Sigmarsson.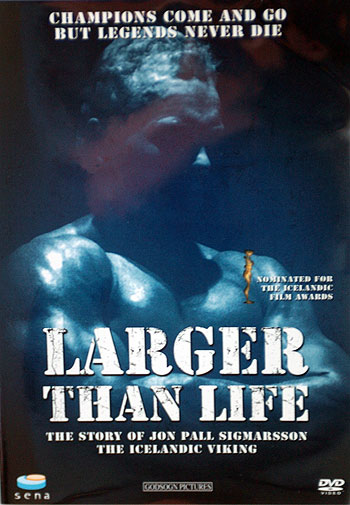 There nothing else like it - the Jon Pall Sigmarsson video is out in English and it's here now. IronMind® |

Four-time World's Strongest Man winner Jon Pall Sigmarsson was the larger-than-life Icelandic strongman whose story was captured on this documentary by the team of Hjalti Arnason and Steingrimur Thordason. In its portrayal of this Icelandic legend, this film broke new ground, capturing Jon Pall's life from childhood to death, combining actual clips with wonderful re-enactments ("How did they get that footage of Jon Pall as a child?").

This film lit the strongman world on fire, but it's impact was far greater as well, setting box office and video sales records in Iceland and capturing the attention of the film industry beyond the world of strength and far from the Land of Fire and Ice.

The premiere of this film, held in Reykjavik in 2006, was attended by Icelandic President Ólafur Ragnar Grímsson, as well as guests from around the world, and now, for the first time, the Jon Pall documentary is available in English. If you are a strength athlete, fan, coach or just want to see an excellent film on a remarkable person, put this video at the top of your list.

You can buy it now, as IronMind® has just received the first shipment: Jon Pall DVD.