Jon Pall DVD: English Version
For everyone who has been eagerly awaiting the English-language version of the Jon Pall DVD, we have some very good news.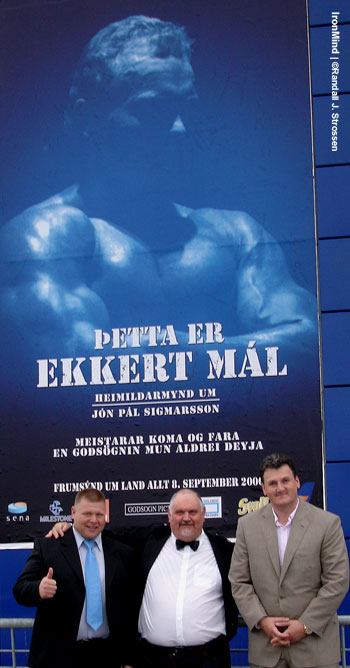 Hjalti Arnason, Douglas Edmunds and Mark Higgins (left to right) at the premiere of the Jon Pall documentary in Reykjavik earlier this year. IronMind® | Randall J. Strossen, Ph.D. photo.

Hjalti Arnason, the force behind this film, told IronMind®, "We are just finishing the English version; subtitles are ready and [there are a] lot of extra photos and clips." Arnason also confirmed that the English-language version will be printed in NTSC format.

This documentary on the incomparable Icelandic strongman Jon Pall Sigmarsson is a must-see for strength fans of all persuasions and it has raised the bar for all future films in the field, showcasing the talents of leading Icelandic filmmaker Steingrimur Thordarson, and the response in Iceland has been colossal - breaking box office records and winning rave reviews. In the latest demonstration of the film's magnetism, Arnason told IronMind®, "The Jon Pall DVD is already in shops, and close to 4000 were sold here in Iceland in the first week."