Hjalti Arnason told IronMind that the European version (PAL) of the Jon Pall documentary DVD is almost completed and the US market version (NTSC) will be following shortly.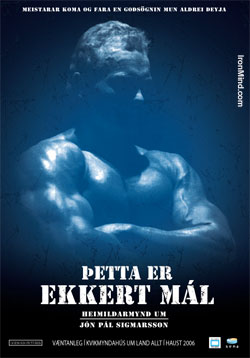 The Jon Pall documentary poster captures the drama of both the subject and the film. IronMind® | Courtesy of Halti Arnason.
"Champions come and go, but a Legend never dies," Arnason said of his subject, the revered strongman Jon Pall Sigmarsson. Hjalti Arnason and one of Iceland's most honored filmmakers, Steingrimur Thordarson, made a major splash at the documentary's September 7th premiere in Reykjavik, which was attended by Icelandic president Olafur Ragnar Grimmson and guests coming from as far as California and Europe. The film has since broken all Icelandic box office records for a documentary and even more telling, it has moved audiences to laughter and to tears as it walks through the life of the man who made such a mark on so many people.