John Manna Certifies on the IronMind Red Nail
After bending "for about five months," John Manna has been certified as officially bending the IronMind Red Nail, a benchmark short steel bend.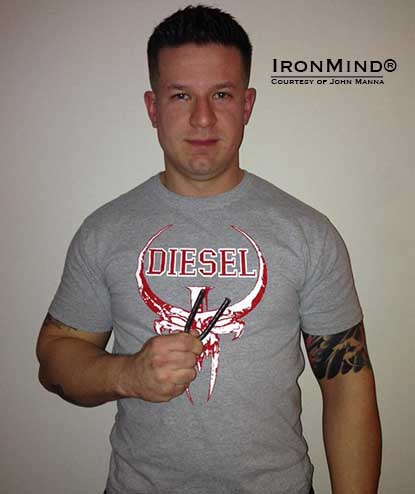 "I'm a commercial laundry equipment mechanic," John Manna told IronMind, "so lower arm, wrist and grip strength are very important on a daily basis." John has just been certified on the Red Nail, a benchmark short steel bend. IronMind® | Photo courtesy of John Manna


"I was first introduced to bending at a training session with John Wojciechowski and Nathaniel Brous [both of whom were certified on the IronMind Red Nail last year]. I was able to bend the [IronMind] Blue Nail my first time," John told IronMind.

"I've been grip training for about 9 months, now. I train 3 days a week, using the IronMind Hub, Rolling Thunder, Wrist Roller and Axle. My next goal is to certify on the Captains of Crush No. 3 gripper and to start working on the Gold Nail," John said. "I would like to thank Cesare Ricchezza, Nathaniel Brous, John Wojciechowski, Mike Sharkey, Jedd Johnson and Adam Glass for all of their help along the way, Pat Povilaitis for agreeing to be my referee and inviting me to his home, also my girlfriend Jackie for her support and putting up with all of my time spent training for this."

Performing strongman Pat "Don't do this at home, kids" Povilaitis, who did the honors as John's referee on his official attempt, had this to say:

"[John] followed all the rules to a 'T' and was a gentleman to boot. The bend took around 13 seconds to complete. He initially wanted to go for two Nails in the allotted 1 minute, but was nursing a sore wrist. I convinced [John] to focus on the job at hand and avoid causing any further injury which might impact his training. We had a nice time messing around with my gripper collection and other assorted toys."

Many thanks, Pat, and congratulations, John: it's official and your name has been added to the Red Nail Roster and you're the first man to make the grade in 2014!

###



Want to talk strength? Join the IronMind Forum.

You can also follow IronMind on Twitter and on Facebook.