John Machnik: Strongest Grip at San Jose FitExpo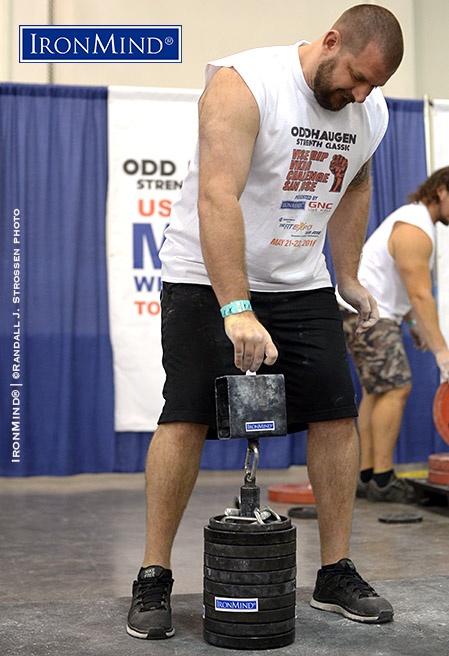 The 2016 edition of the Visegrip Viking Armlifting Championships at the San Jose FitExpo were something of a velvet hammer: rather than the usual bold faced names from the grip strength world, the entry list was largely filled with notables and unknowns, but as it turned out, there were some outstanding, world-class performances.

Have to start by saying that Dali Gheng 's team of three women (67, 76 and 76 years old), who had run into grip strength training at Clay Edgin's Santa Cruz Strength and decided to enter was a real crowd pleaser.

On the men's side, John Machnik quietly turned up the heat and by his lifts showed that if he hadn't been on your radar screen before, he will be now: Machnik's 396-lb. Apollon's Axle double overhand deadlift was a very nice lift and gave an indication that this man was for real. Then, after making 74.5 lb. on the IronMind Hub, he tried a world record (86.8 lb.), missed it, and went on to make 83 lb. on the IronMind Blockbuster Pinch Grip Block, followed by a world record attempt (102.1 lb.) that was unsuccessful but that once again signaled his strength.

Mike "Hubgeezer" Corlett made a nice 64.5 lb. lift on the IronMind Hub and caused enough of a stir that a spectator tweeted a video of Mike in action, while marveling at Corlett's grip world nom de guerre.

Also noteworthy, was Dustin McFarland—he was another crowd favorite, not being huge and typically sporting a big smile as he ripped one good lift after another.

Footnotes are plentiful: Before the contest started, Joe Kinney (first man in history to certify on the Captains of Crush No. 4 gripper) texted me to urge Mike Corlett to try to officially close a Captains of Crush No. 3 gripper and nail down the certification that he's been chasing (Mike gave it a shot but got stopped a bit shying of touching the handles). Also, OCR/arm wrestler/rock climber/American Ninja Warrior Evan Raftopoulos, who had been in touch with IronMind about the Rolling Thunder Pull-up world records, cranked out a 1-arm pull-up, unofficially, with a Rolling Thunder.


                                                       ###


You can also follow IronMind on Twitter and on Facebook. 

Want to talk grip, strongman, weightlifting . . . everything strength? Visit the IronMind Forum.