John Godina, Ryan Vierra and Francis Brebner: Highland Games Seminar at the World Throws Center
Shot put great John Godina and Highland Games stars Ryan Vierra and Francis Brebner are teaming up at John Godina's World Throws Center in early January to put on a Highland Games Clinic.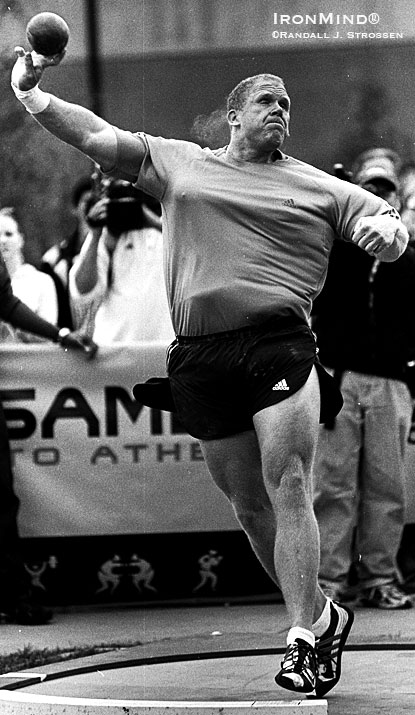 Ace shot putter John Godina is teaming up with Ryan Vierra and Francis Brebner for an Highland Games seminar at his Arizona facility on January 2, 2010. Might be the perfect way to start the new year if you want to hit some PR throws in 2010. A Rolling Thunder Challenge will follow the seminar at the Four Peaks Brewery. IronMind® | Randall J. Strossen photo.


Ryan Vierra is a 5-time Highland Games world champion, John Godina is a multiple-time world champion and Olympic medalist in the shot put and Francis Brebner is a seven-time world caber tossing champion, so if you're tired of getting advice from armchair experts and keyboard warriors, head to Phoenix and learn from the best.

This is yet another top-drawer event organized by John Godina's World Throws Center, which has the world's elite . . . whether it's athletes or coaches.

Ryan Vierra told IronMind® that when John Godina had originally asked him to start a Highland Games seminar at the World Throws Center, Vierra said, "Only if you teach stones." John Godina said "Yes," so that's how things got started, and now Francis Brebner has been added to the talent-rich pool you will find at Godina's facility in Phoenix. Building on this base, Ryan Vierra told IronMind®, "I am very excited to have Francis be a part of our clinic. He has a wealth of knowledge that few can match. I hold Francis in high regards as a person and [see him] as one of the most influential people in our sport."
Slots for this seminar are limited, so sign up now if you would like to attend.

So go ahead and learn how to excel in the Highland Games and that evening (Saturday, January 2) after the seminar, head over to Tempe's Four Peaks Brewery for the Rolling Thunder Challenge - with a $50.00 IronMind® gift certificate waiting to be claimed by the winner.