John Brzenk Wins Big at Club Cal Neva Pro Am Armwrestling
With the finals on the karaoke stage of Club Cal Neva, the Pro–Am armwrestlers lit things up in Reno last night and John Brzenk walked away as the winner of four classes.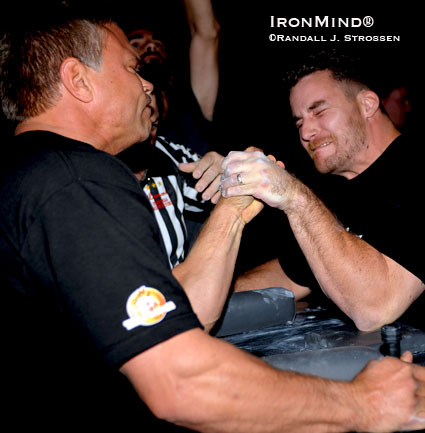 John Brznek (left) - Tom Nelson (right) was the big matchup in the pro men's left classes, with both men entering the 199-242-lb. class as well as the +243-lb. class. Brzenk won both classes, but along the way Nelson slipped by Brzenk for a quick pin in one of their matches. IronMind® | Randall J. Strossen, Ph.D. photo

Here are results from the finals in pro right classes:
0 - 154 lb. Vazgen Soghoyan beat Shane Davis
155 - 176 lb. Brandon Dye beat Luke Kindt
177 - 198 lb. Eric Wolfe beat Randy Weaver
199 - 242 lb. John Brzenk beat Eric Wolfe
243+ lb. John Brzenk beat Sammie Hattabaugh

For full results and an event calendar, please visit the United States Armwrestling Association website.